Motorola has done a fairly good job with its steady rollout of phones this year, and the king of budget Android phones (at least in the United States) is here with yet another model. The Moto G 5G (2023) follows up last year's model with a newer chipset, upgraded display specs, a sleeker design, and much more.
After spending some time with the Moto G 5G (2023), I can confidently say that it gives you exactly what you'd expect from a $250 phone, and that's not necessarily a bad thing. The design makes the phone look a bit more premium than it is, and the phone is overall a solid piece of hardware that should be able to get most casual smartphone users through the day without any glaring issues.
However, I can't help but feel like this phone is a bit redundant, especially with similar options from Motorola, such as the Moto G Power 5G, already in circulation. Still, the cheaper price point when compared to the Moto G 5G (2022) makes it a fairly compelling option, especially given the number of improvements this phone sees.
Moto G 5G (2023): Price & availability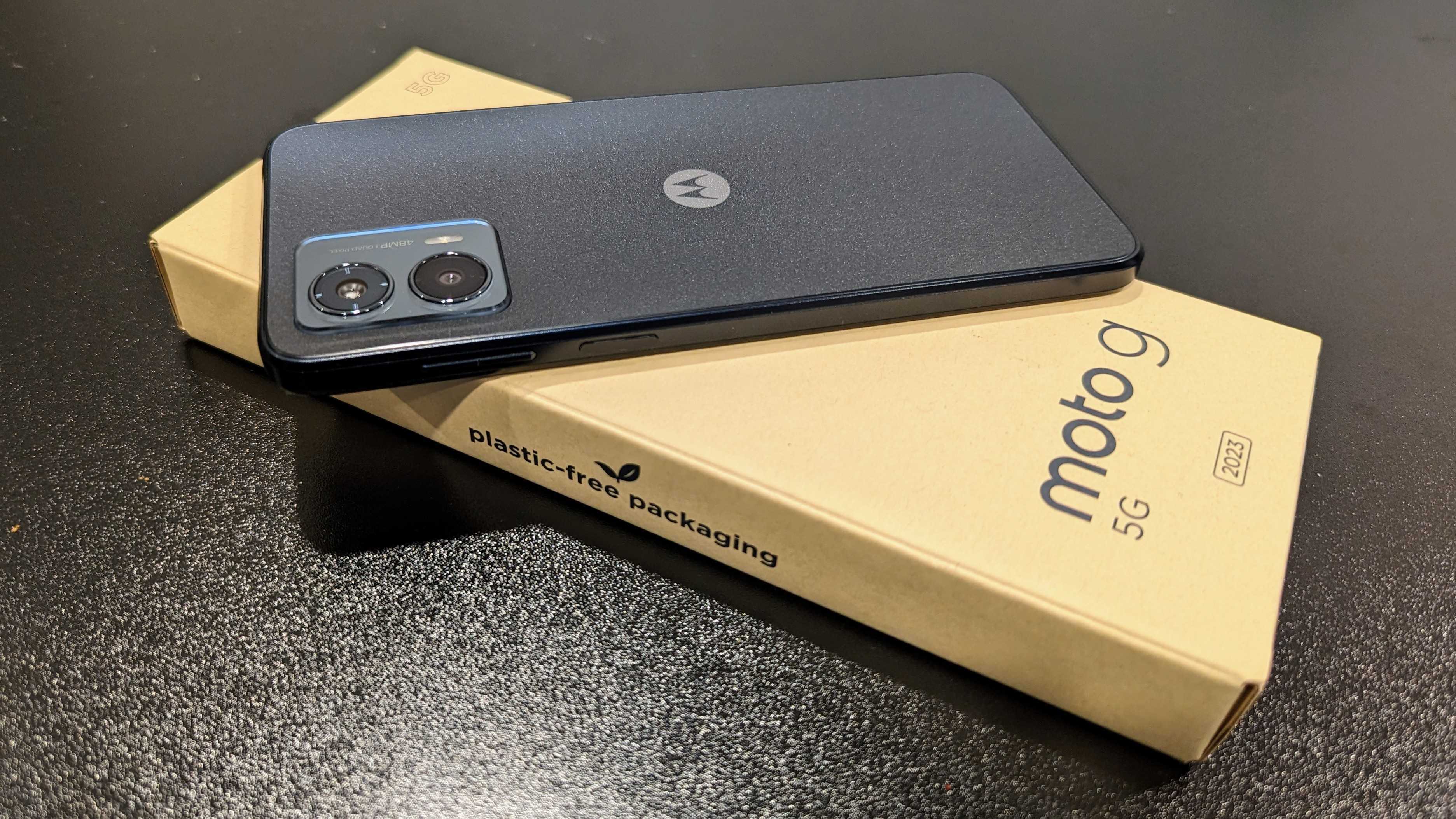 The Moto G 5G (2023) was announced in May alongside the Moto G Stylus (2023). The phone went on sale on May 25 through Motorola.com, Best Buy, and Amazon, and is set to go on sale through several carriers, such as T-Mobile and Metro by T-Mobile.
The Moto G 5G (2023) retails for just $249, which is $150 cheaper than its predecessor at launch. The phone is available in two colors, Harbor Gray and Ink Blue. 
Moto G 5G (2023): What I like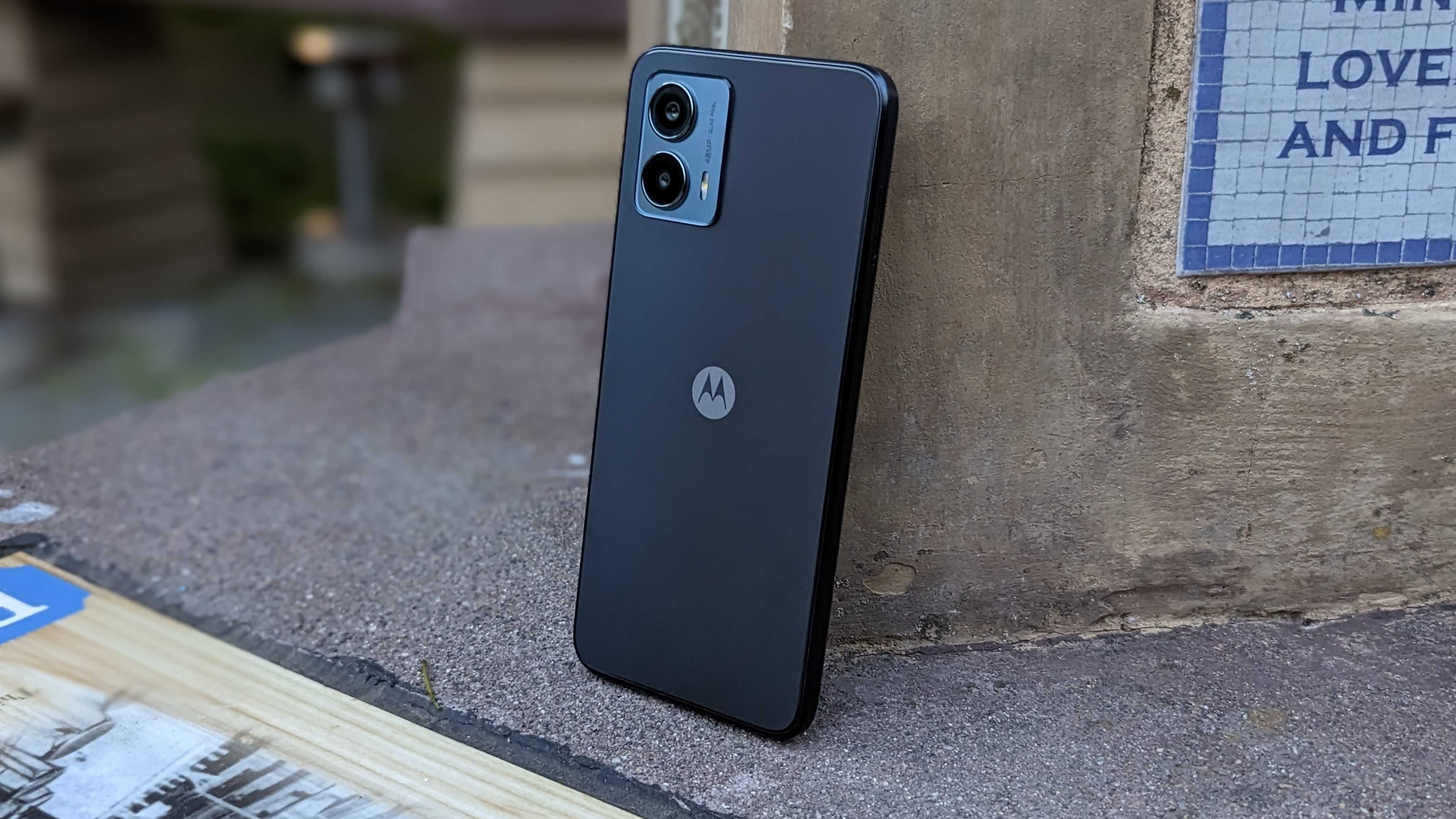 I feel like I'll say this a lot about Motorola's phones this year, but I really enjoy the design of this phone. It sort of takes after its flagship counterparts like the gorgeous Motorola Edge+ (2023), but with slightly different design elements from what I've seen on other models this year. The front and back are completely flat, and the rear panel is a soft plastic that sort of feels like frosted glass. The plastic frame has chamfered edges, which I'm not really a fan of, as I feel like it cheapens the overall design.
The Ink Blue colorway that I have also lives up to its name; the phone looks more black than blue, but the blue bleeds through depending on how the light hits it, which is a nice touch.
On the back, the reflective camera housing contrasts with the rest of the phone and doesn't protrude very much. On the front, the 6.5-inch LCD is surrounded by largely unoffensive bezels, with the exception of the rather large chin. You'll also find the front-facing camera at the top of the display, with your usual array of buttons and peripherals on the sides and bottom of the frame.
Overall, the design is pretty nice, and I feel like it looks like the OnePlus Nord N300 5G and the Moto G Power 5G were merged together.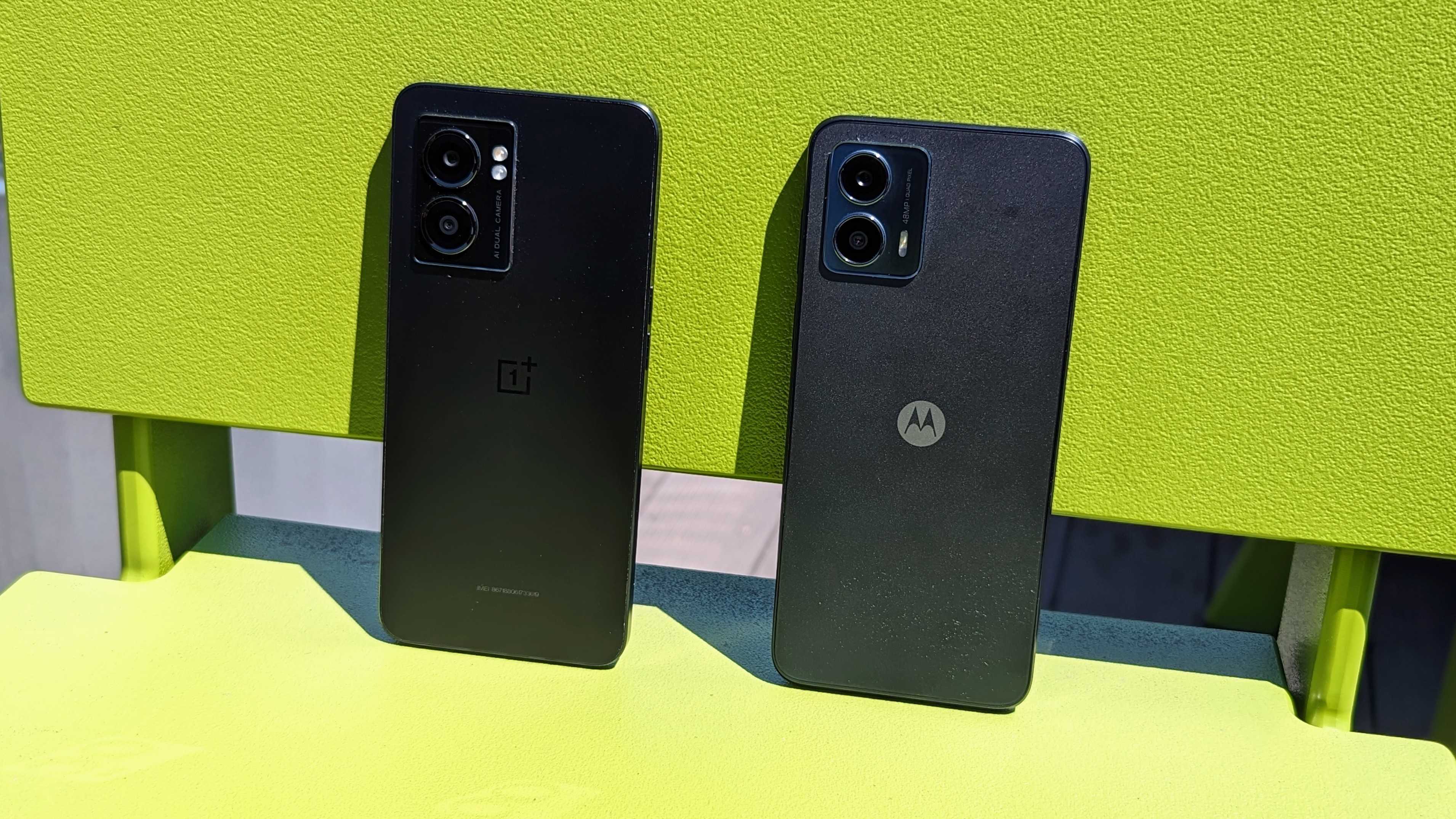 When it comes to using the phone, the overall performance is surprisingly decent. The Snapdragon 480+ isn't the most powerful mid-range chip, but it handles most tasks pretty well. That includes the 120Hz refresh rate display, which actually doesn't look as bad as the HD+ resolution might suggest. Scrolling through menus and apps is pretty smooth and feels a little better than it did on the Moto G Power 5G.
Swipe to scroll horizontally
| Category | Moto G 5G (2023) |
| --- | --- |
| OS | Android 13 |
| Display | 6.5" HD+ (1600×720), LCD, 120Hz refresh rate |
| Chipset | Snapdragon 480+ |
| Storage | 128GB, expandable |
| Memory | 4GB |
| Rear Camera 1 | 48MP wide-angle, f/1.7, 0.8μm, Quad-Pixel (1.6μm) |
| Rear Camera 2 | 2MP macro, f/2.4, 1.75μm |
| Selfie Camera | 8MP, f/2.0, 1.12μm |
| Water Resistance | ❌ |
| Battery & Charging | 5,000mAh, 15W wired charging |
| Connectivity | 5G (sub-6), Bluetooth 5.1, Wi-Fi (2.4GHz & 5GHz) |
| NFC | ❌ |
| Security | Fingerprint sensor, face unlock |
| Dimensions | 163.94 x 74.98 x 8.39mm |
| Weight | 189g |
| Colors | Ink Blue, Harbor Gray |
Running Android 13 with MyUX on top, the experience is similar to the Pixel Launcher. It's admittedly not my favorite UI, but Motorola makes the best of it thanks to its inclusion of useful gestures that I've become accustomed to.
That includes chopping the phone twice to turn on the flashlight, twisting to open the camera, and even a quick-launch feature that lets you perform actions by double-tapping the back with your finger à la Pixel. If you've owned a Motorola phone, you'll know that these features are pretty awesome, and it's genuinely surprising other manufacturers haven't replicated a lot of them.
You also get plenty of other Motorola goodies, such as the Peek Display, which lets you interact with notifications when the display is off. Motorola's Adapt and Weather widgets are also pretty great, giving you glanceable stats about battery life, air quality, weather conditions, Google Fit progress, and more.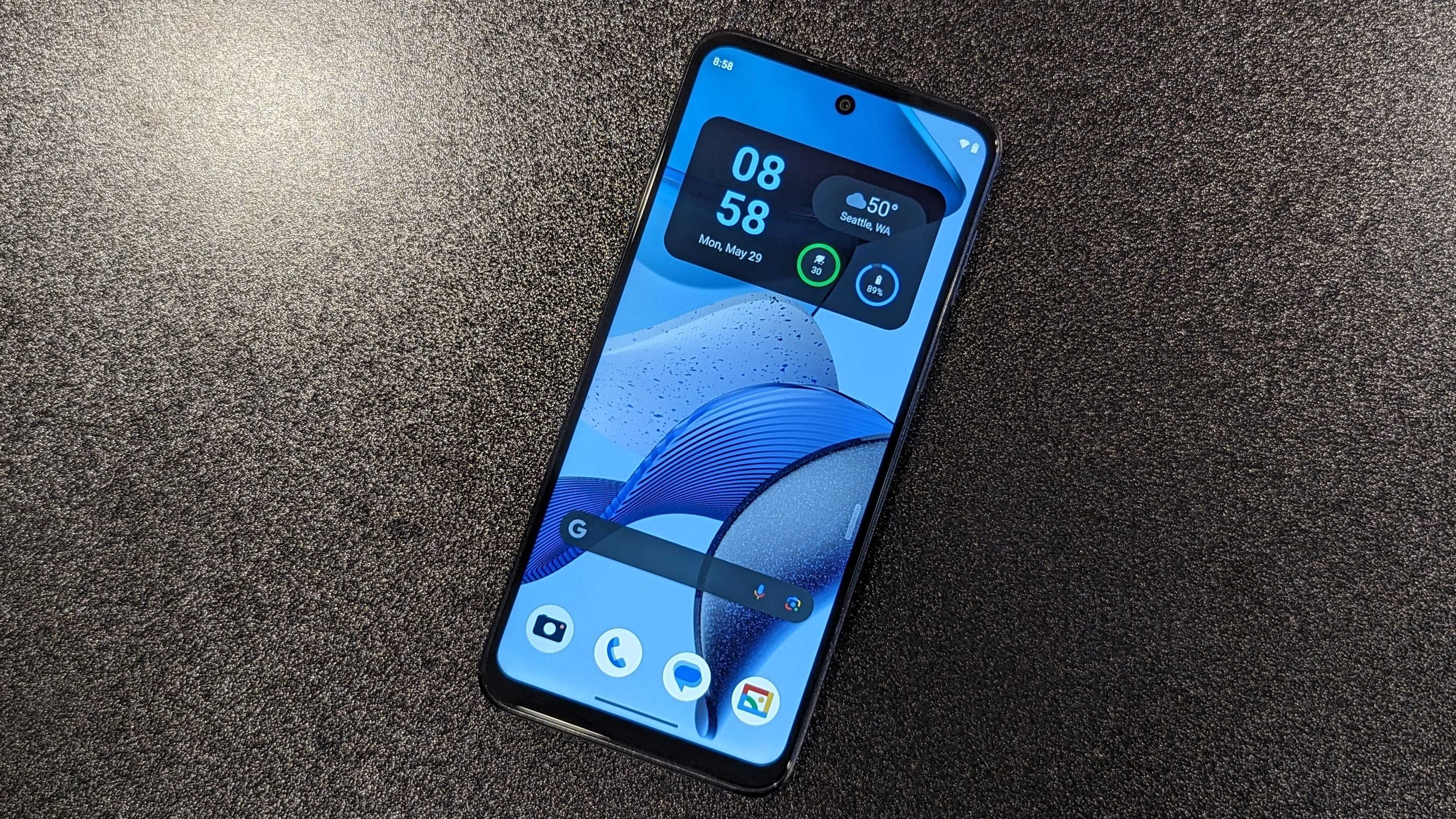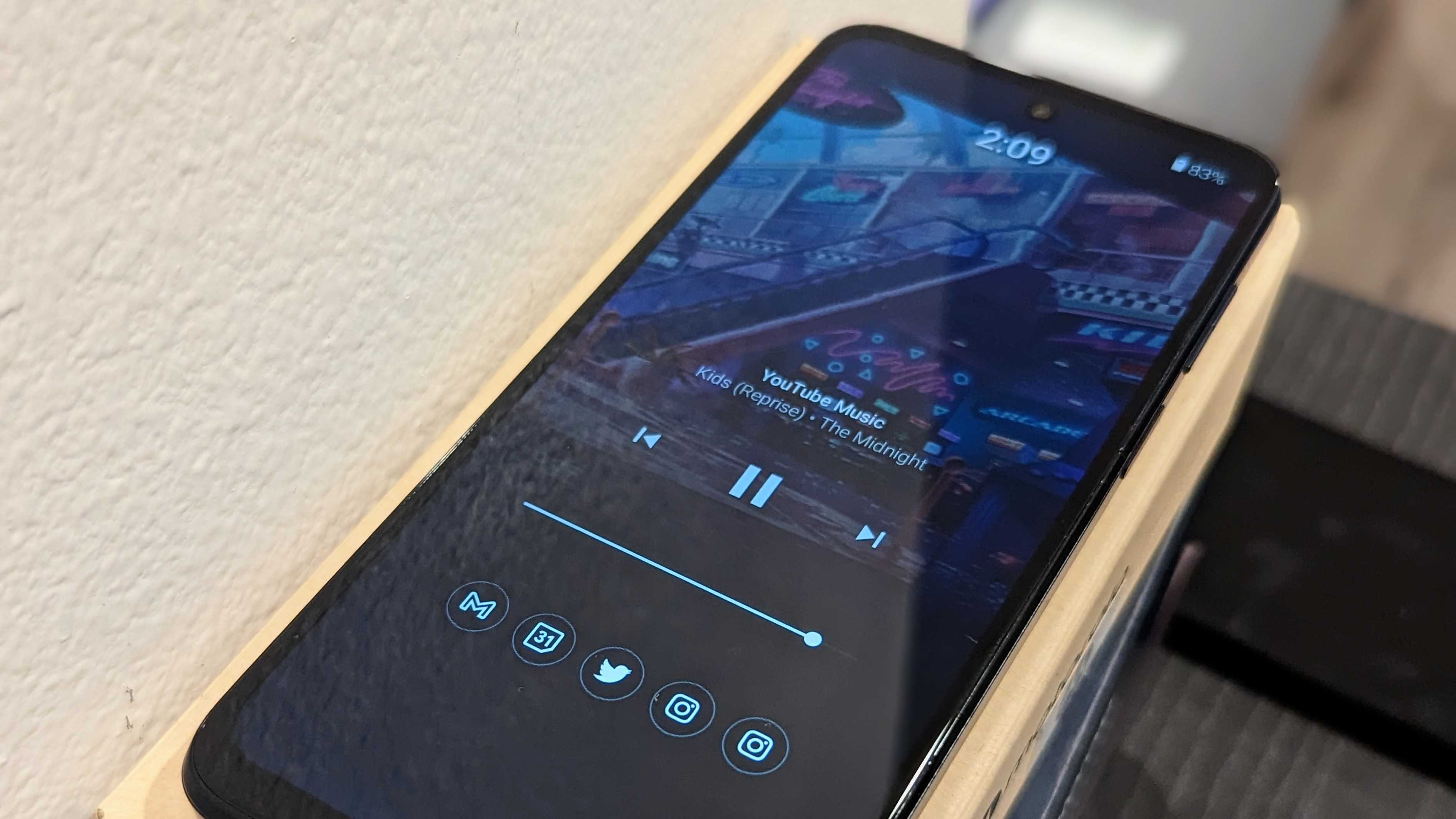 One area I quite enjoy is the audio quality. While I haven't used the headphone jack because I don't own wired headphones, audio from the stereo speakers is quite loud and offers plenty of oomph. That's likely due to the inclusion of Dolby Atmos, which is surprising because that's a setting I turn off on the Galaxy S22 as it seemed to make the audio sound worse. Whatever Motorola is doing with its tuning, it's working, because the audio sound better than what I would expect from a budget Android phone.
I also really enjoy the primary camera, which is a slight step down from its predecessor at 48MP. Images are a bit truer to life than the 2022 model and don't go too heavy on the contrast. The camera outputs colors well, and there's a decent amount of dynamic range. Low-light and nighttime shots are also pretty decent, and while there is still some noise in the images, it's kept to a minimum.
You also get 128GB of storage, which is plenty for most people. However, if you need more, you can always throw in a microSD card, as the Moto G 5G (2023) joins some of the best Android phones with expandable storage.
Motorola phones are known for having good battery life, and the Moto G 5G (2023) is no different. The company claims you can squeeze out two days of battery life on a single charge, which is about right if you avoid extended gaming sessions. In my testing, I averaged around a day and a half, although that's probably because I'm constantly putting the phone through its paces.
Moto G 5G (2023): What I don't like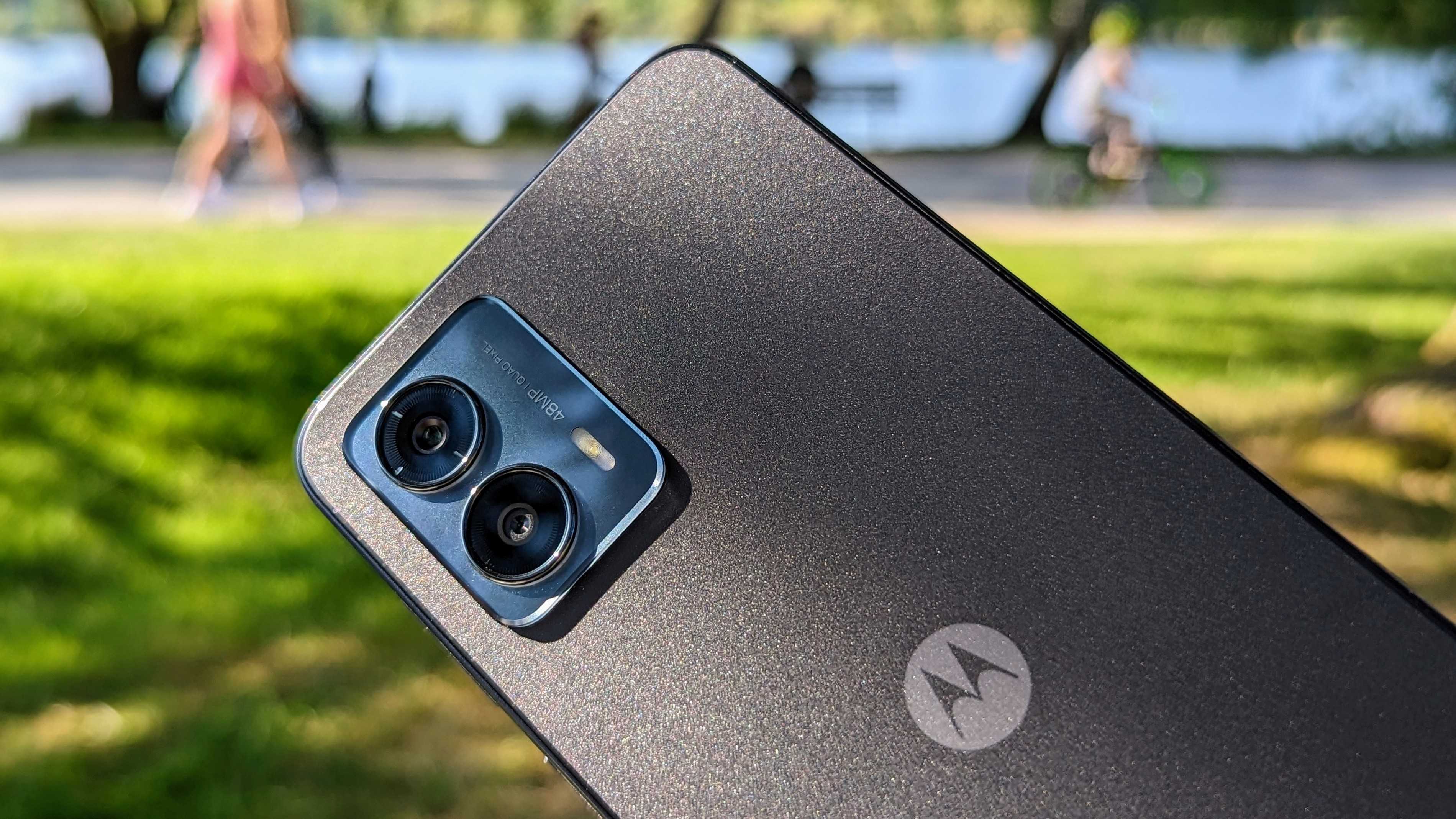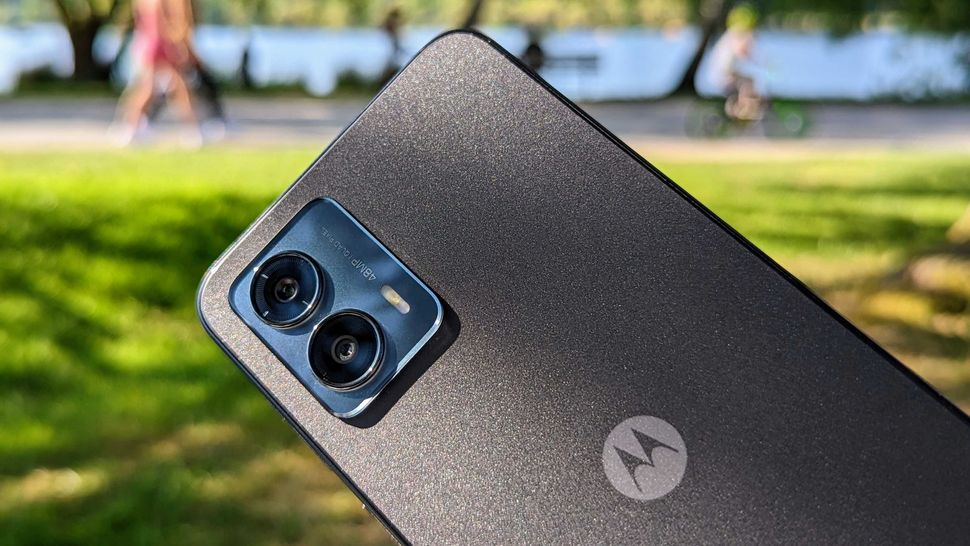 At $250, you can find plenty of compromises with this phone, although I hardly think any of them are dealbreakers. Off the bat, there's no NFC, which is still a problem I wish Motorola would get over when it comes to its lower-end phones, especially as Google Wallet continues to expand support for countries and transit systems, but I digress.
The camera, for instance, isn't the most versatile around. The primary shooter outputs great images for its price point, but you'll find the camera struggles with portrait images and any type of zoom. The lack of an ultrawide sensor is also a bummer, as is the 1080p cap for video recording.
There's a macro sensor to add some versatility, but it's likely you won't use this very often. If you do, the output is good enough, but nothing to run home about. Selfies are also…just okay.
Of course, don't expect the best gaming experience ever, but the phone holds its own fairly well when playing games like Gyee, Honkai Star Rail, and others. You can get away with medium settings and even dabble with higher settings if you're bold, but you won't have the smoothest experience if you do. It's not exactly a dealbreaker for me with a phone at this price point, but I also can't recommend this phone for its gaming chops.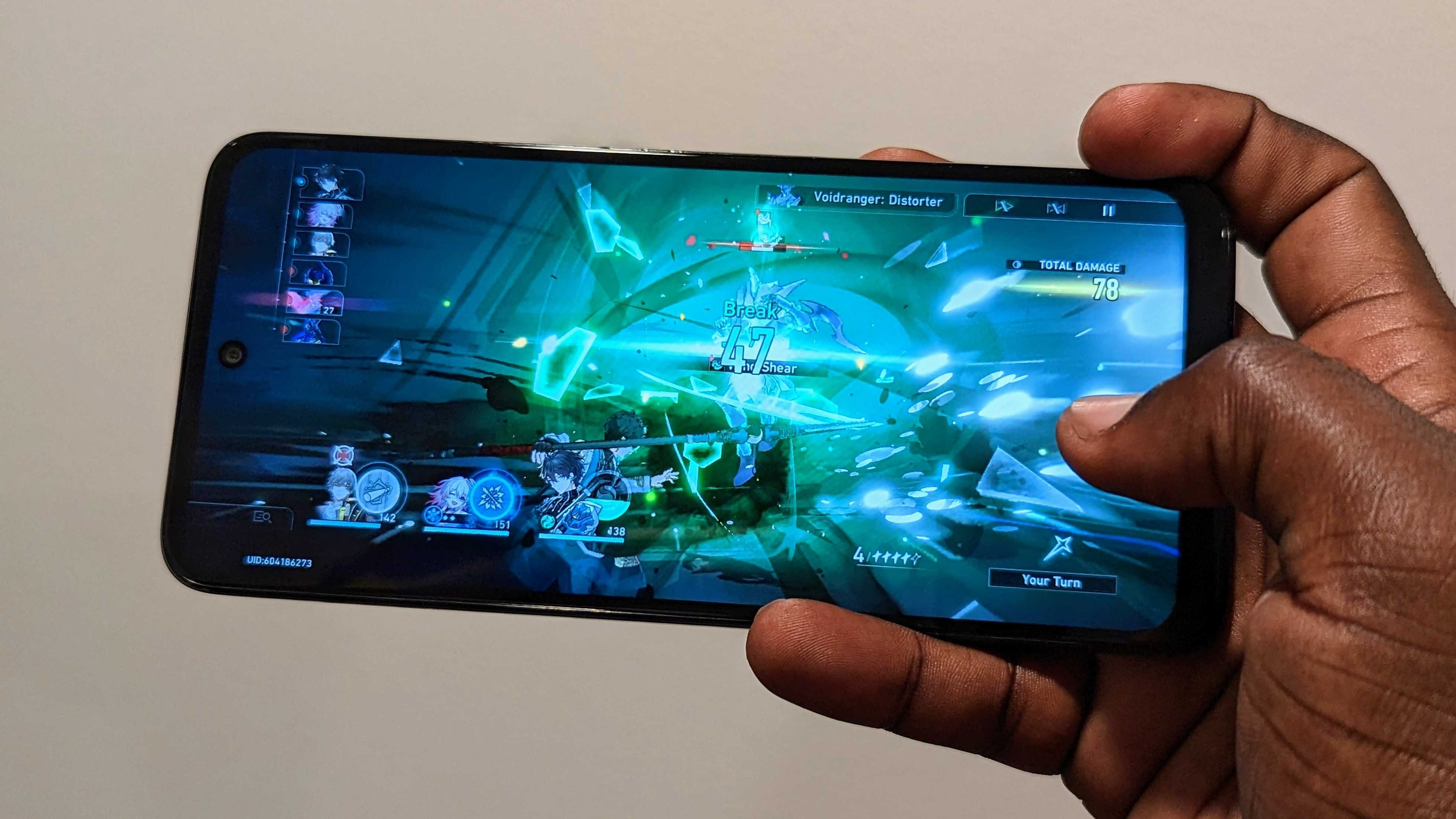 There's also quite a bit of bloatware when you first turn on the phone. It comes in the form of several apps no one asked for and Motorola's hubs that automatically filter some of your apps into folders. I'm already not a fan of app folders, so this is annoying, especially when these hubs are there to try and get you to download more apps. They even have ads. Ads! Fortunately, you can uninstall these hubs, but it leaves a bad taste in my mouth that I even have to deal with this.
Speaking of software, Motorola promises one OS upgrade and three years of software updates. Not the best, especially when plenty of Samsung phones in this price range receive more, but it's something.
Lastly, Motorola has finally upped the wired charging speed to 15W, which is a decent upgrade from the 10W it used in its predecessor. However, that's about as fast as my S22 charges wirelessly, and the charging speed doesn't seem all that affected by the increase, as it takes nearly two hours to top up the battery. And no, there's no wireless charging.
Moto G 5G (2023): Competition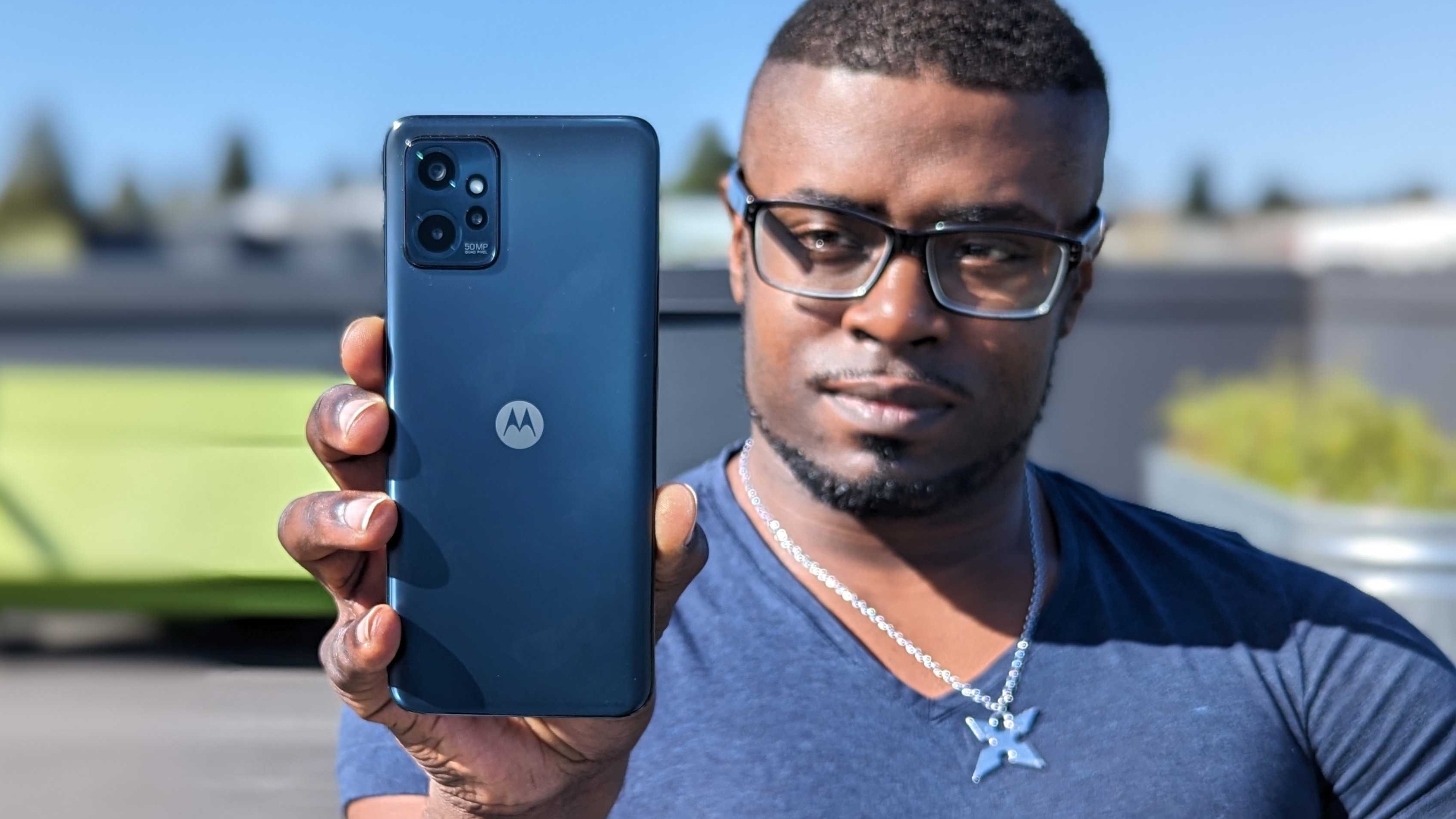 If you don't mind splurging a bit, the OnePlus Nord N30 5G looks like a good option for anyone looking for an Android phone under $300. It comes with a whopping 108MP primary camera, 50W fast charging, and a large 120Hz display. At writing, the phone is available for preorder, and we have not yet put it through its paces, so we're not sure how well it performs with the Snapdragon 695. Of course, at $299, it's a bit pricier than the Moto while offering only half the storage if that's something you care about.
While the Moto G 5G (2023) is good in its own right, you might also want to consider the new Moto G Power 5G. It has much of the same things the G 5G offers but with a higher resolution display, more RAM, and an arguably better chipset. That said, the phone also suffers from many of the same problems as the G 5G while priced a bit north of the phone at $299 (although you may be able to find it cheaper). You'll have to decide if those negatives are worth the extra price.
The Galaxy A34 5G is also a good option.. if you can get your hands on one. The phone is offered in select regions, so it may not be available where you're at, at least not officially. Still, if you can get one, the phone is powered by a pretty good mid-range MediaTek chip, comes with an ultrawide camera, and gets Samsung's impressive update promise. That said, all that will cost you upwards of $300, making it the priciest option.
Moto G 5G (2023): Should you buy it?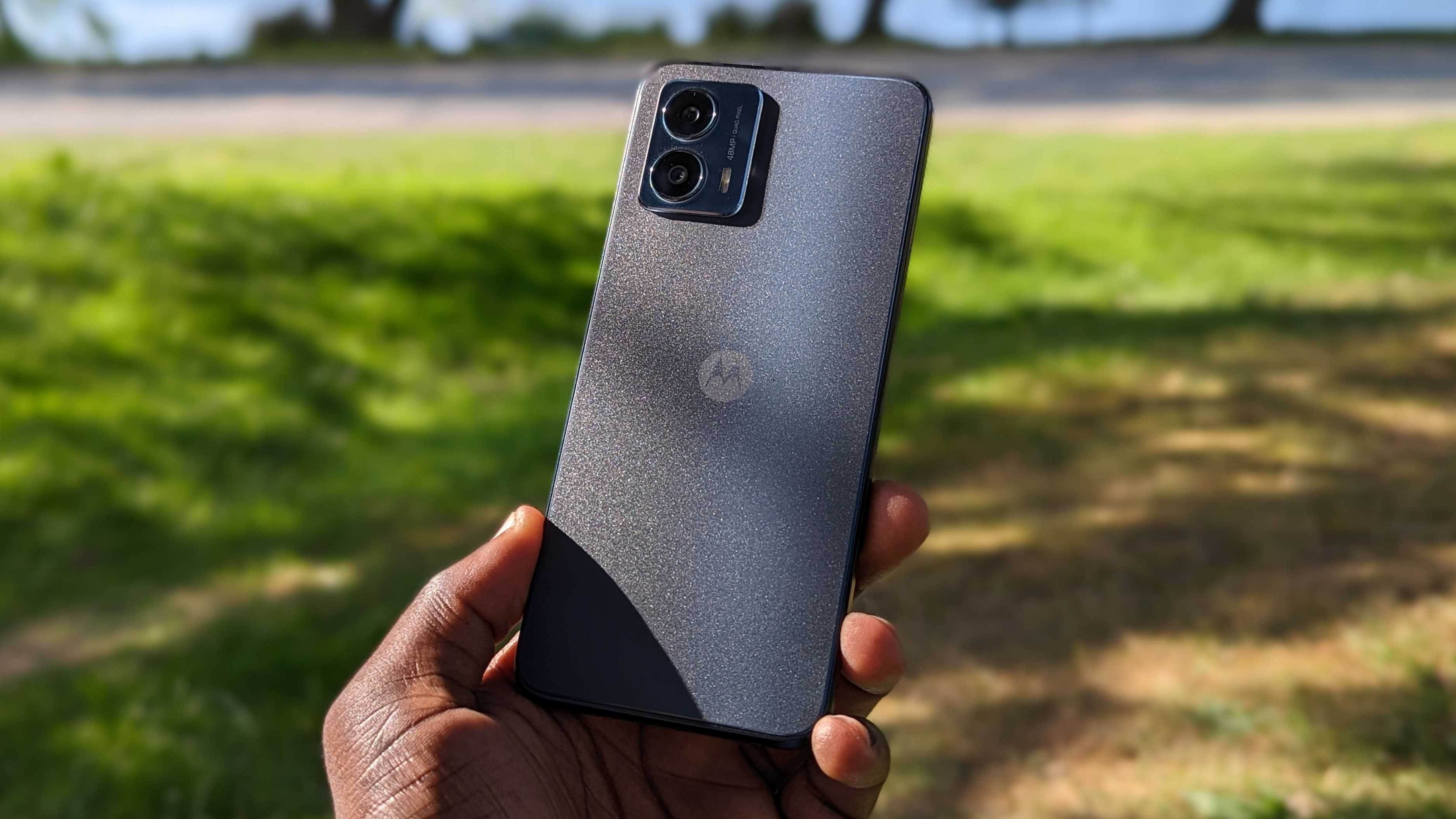 You should buy this if…
You are in the market for a cheap 5G phone
You're a fan of Motorola's gestures
You want a phone with day+ battery life
You shouldn't buy this if…
You want a versatile camera experience
You want to use Google Wallet for tap-to-pay features
You want the best value under $300
Motorola knows how to make cheap phones with good value, and that extends to most of its latest offerings. The Moto G 5G (2023) offers plenty of upgrades over its predecessor while launching at a much more affordable price point that makes it hard to resist. It's a good phone with a few annoying quirks that aren't necessarily dealbreakers.
That said, I can't help but feel like I've used this phone before. Having just come off reviewing the Moto G Power 5G and even the Moto G Stylus (2023), the new Moto G 5G (2023) just feels redundant, like it's being awkwardly squeezed into a space already occupied by plenty of other Motorola phones. It doesn't have the novelty of a built-in stylus pen of the cheaper device while also not offering the better specs of the more expensive one, leaving the Moto G 5G (2023) as the awkward middle child (no offense to all the middle children out there).
If you need a cheap 5G phone, I have no problem recommending this to anyone. It works well and does what it needs to do… and no more. Like its predecessor, the Moto G 5G (2023) is « remarkably unremarkable, » which is exactly what many people need and should expect from a $250 phone.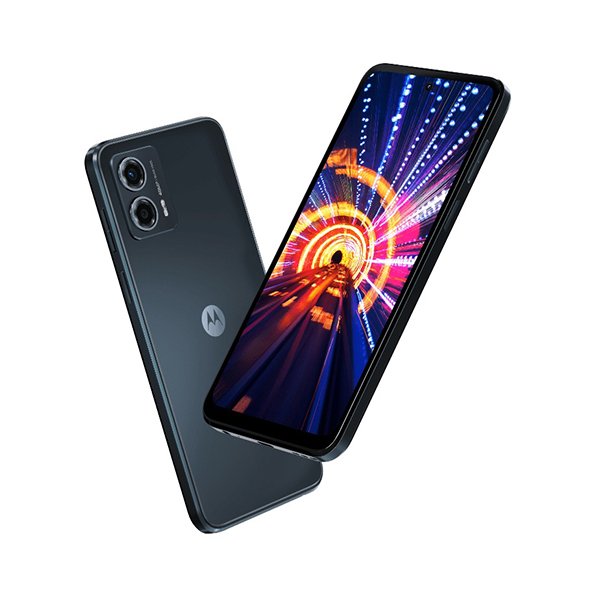 The new Moto G 5G (2023) is a pretty decent budget Android phone for anyone looking for 5G on the cheap. It has a good camera, long battery life, and some pretty good audio chops, thanks to Dolby Atmos. There's also a 120Hz display and a Snapdragon chipset helping everything running smoothly.


->Google Actualités