Anime isn't just over-the-top violence and morally ambiguous characters in weird costumes fighting one another to the death. Anime and comedy work beautifully together, as you can find by going through the last 40+ years of hit anime shows and movies that were successful in not only their native country, but throughout the rest of the world, as well.
There's really no limit to the range of genres and subgenres that can be found under the anime banner. Comedy alone is a vast landscape of slapstick, farce and parody, surrealism, romance, friendship, and even the gallows humor we sometimes enlist to survive a horrible situation. anime can do it all, despite the limitations imposed by people who have a very, very narrow view of what the medium is capable of.
We can't cover every comedy anime film or show ever made, but we can least take you through the best comedy anime ever made. You're guaranteed to find something that will appeal to your own sense of humor.
The Best Comedy Anime
15. Cromartie High School
There's a moment early in the first episode of the 2003-2004 TV series Cromartie High School where student Takashi Kamiyama cheerfully informs us that if we want to learn more about certain backstory, we'll have to read the manga. This proves true, as the 2000-2006 original manga run does provide significant character history beats that are not present in the TV series. You can expect this sense of humor, which veers between parody and slapstick cartoon delirium, from beginning to end.
Cromartie High School is difficult to sum up in simple terms. Freddie Mercury is there. School gangs wage hilarious wars based on motorcycle races and hysterical tough guy posturing. There's a gorilla and a robot, and things just get wilder from there.
The TV series is a masterclass in the ridiculous, and impressively sustains itself to the end of the show's run. The 2005 live action movie might be worth a glance, too.
14. Tenchi Muyo!
Tenchi Masaki is a nice young man who also happens to live with several women from different points in the galaxy. Some of them are very, very horny for him. Others want to experiment on him. Others still just want to make him a nice snack. Everyone wants his attention to some degree or another. This is basically the plot of any given Tenchi Muyo series you might watch.
Because there's quite a few different Tenchi shows and films to check out. There's also manga and light novels, as well as video games and several spin-offs. This is one of the deepest catalogs of anything we're covering with this look at the best comedy anime. There are 5 seasons of the original OVA, 4 different television shows, 3 feature films, and still more. Start with the OVA series, which is arguably the franchise's best blend of comedy and light drama.
13. Ranma ½
It would be virtually impossible to write about comedy in anime without mentioning Rumiko Takahashi. Ranma ½ in particular was one of the first major works to be released in the west at the top of the 90s anime boom.
A young martial artist named Ranma Saotome and his father Genma go swimming in a cursed spring, which causes them to transform into a girl and a giant panda respectively whenever they come into contact with cold water. Only warm water can change them back. Further complicating things is Genma and his friend Soun Tendo making arrangements for Ranma to marry Soun's daughter Akane.
That's the basic premise for a series that began as a manga, before being adapted to a TV series in 1989 that was cancelled after just one season. The series was retooled and attempted again that same year and ran for 143 episodes. The 1989-1992 series is where you should go first. Get ready for martial arts silliness, gender woes, rivals for the hearts of Akane and/or Ranma, and lots and lots (and lots) of other characters.
12. The Devil is a Part-Timer!
Satan seems to be a pretty popular character across a wide range of manga and anime stories. The Devil is a Part-Timer! sounds like something out of a sitcom, Satan gets stuck in our realm and is forced to take up a job working at a fast food joint.
It doesn't get much more ridiculous than that, but The Devil is a Part-Timer finds unexpected comedic depths again and again in its 2013 series run of thirteen episodes. As Satan works to rebuild his power base, he must deal with not only his assorted generals and minions, but also being pursued by a hero named Emilia.
The Devil is a Part-Timer! is one of the best surprises awaiting those just starting to get into comedy anime shows and movies. It's a fast-paced series with multi-layered humor and amiable characters who make the show impossible to put down. A 2022 sequel series continues the story.
11. Lupin III: Castle of Cagliostro
Castle of Cagliostro, the first feature film by Hayao Miyazaki, is not only one of the best animated comedy-adventure films of all time, but also a fantastic introduction to the world of Lupin III. Originally introduced in 1967 in serialized manga form by the late, great Monkey Punch, Lupin III is the story of master thief Arsène Lupin III, his associates, the police investigator who pursues him relentlessly across the globe, and their adventures as thieves who are sometimes compelled to do the right thing.
Castle of Cagliostro keeps the above formula in mind, but in what would become the standard for Miyazaki's career as a writer and director, the film offers a wealth of thematic depth, glorious adventure, striking visuals (especially for 1979) and some genuinely funny interactions and dialog.
Lupin III includes dozens of manga volumes, countless TV specials and movies, musicals, TV shows, and so much more. If you love Castle of Cagliostro, you're going to be busy for a long time.
10. Jujutsu Kaisen
Featuring an expansive, ongoing manga series and TV series, Jujutsu Kaisen is one of the newest releases to get a spotlight in this article. The characters, especially our young main protagonist Yuji Itadori, help with that success a great deal.
There's also something impressive and even potent about the way this series juggles comedy with more serious elements and moments. You may find yourself occasionally wishing the series was a little more consistent in its tone, but this is a minor issue when put against the sheer fun of getting into this story and its increasingly crucial stakes for everyone involved.
Jujutsu Kaisen also gets a lot of its popularity from a very interesting power system. This system revolves around something known as cursed energy. As the name suggests, this energy comes from negative sources such as fear and rage. The way this system is explored proves to be a driving force that even influences the comedy to a meaningful and singular extent.
9. Grand Blue
Rather than focusing on high school kids, as many comedic series and films do, Grand Blue concerns college students. That may not sound like a big leap, but the manga and anime both use the setting and general ages of its characters to find some hilarious and engaging results.
Grand Blue is a comedy anime that's pure slapstick with an emphasis on visual and gag humor. The series builds on strong characters in this setting, but isn't afraid to take characters like Chisa and Iori and immerse them in some truly ridiculous situations.
There's a heart to Grand Blue that makes the 12-episode series from 2018 an essential watch. This is the sort of heart that brings the characters and their stories to pleasing life, but without taking any of it too seriously. We can only hope there are more episodes in the near future, as the manga series has been running for about a decade at this point.
8. Space Dandy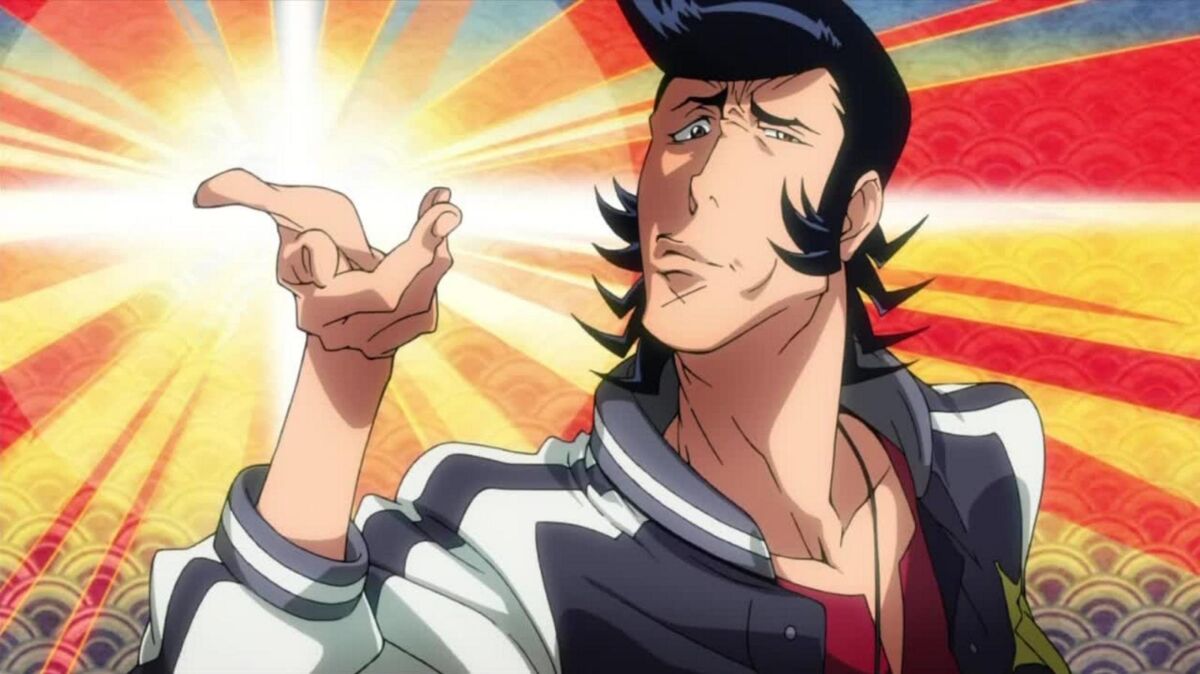 Set in outer space, Space Dandy is the best kind of compulsory fun. Our hero Dandy is just another weirdo looking for intelligent life in the universe, joined by his robot QT and a feline-like creature named Meow.
The series is co-directed by Shinichirō Watanabe, with many people responsible for Cowboy Bebop also working on this series. While Space Dandy is entirely its own thing, this comedy anime should prove to be a winner for anyone who enjoys the basic Bebop premise of unlikely heroes trying to make the best of a chaotic and dangerous situation.
Space Dandy is a wild ride, with the show making it very clear that normal rules for storytelling will not always apply. Characters die and return without so much as a reference to what just happened. Insanity begets further insanity, but the show never loses sight of its appealing characters or inventiveness. The show is loaded with clever sight gags and visuals of the space opera variety.
7. One Punch Man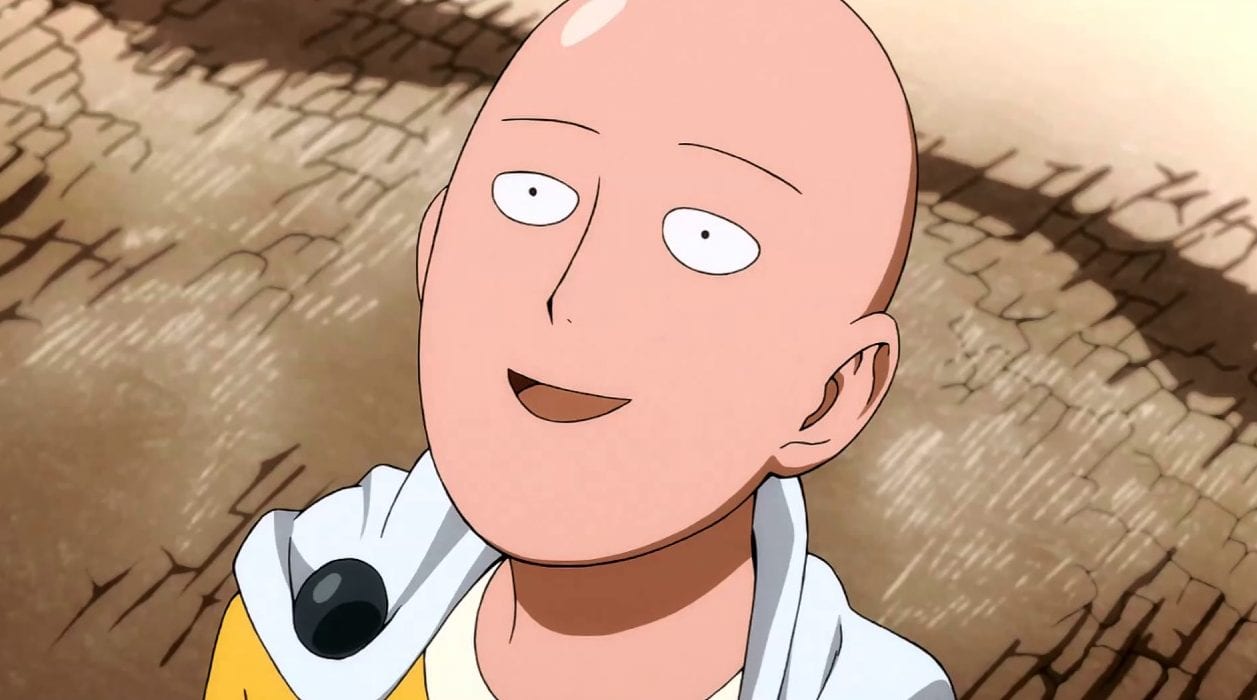 A sprawling worldwide hit for the studio Madhouse, One Punch Man is one of the best comedies built around superhero tropes to be released in the 2010s. Considering how much superhero media was released in that decade alone, the success of a series that began as a webcomic by creator One is quite stunning. This is another simple premise with a shocking ability to go further with that premise than anyone could have guessed.
A superhero named Saitama can defeat any opponent with a single punch. Obviously, if things were that simple, the show would be pretty short. One Punch Man goes after its subject and character with the kind of humor you might expect, only to then surpass your expectations with wonderful characters and a relentless assault of twists and extending its ideas beyond any sort of logical conclusion.
One Punch Man proves there are always ways to relate a superhero parody with more than just the expected comedic beats.
6. Nichijou: My Ordinary Life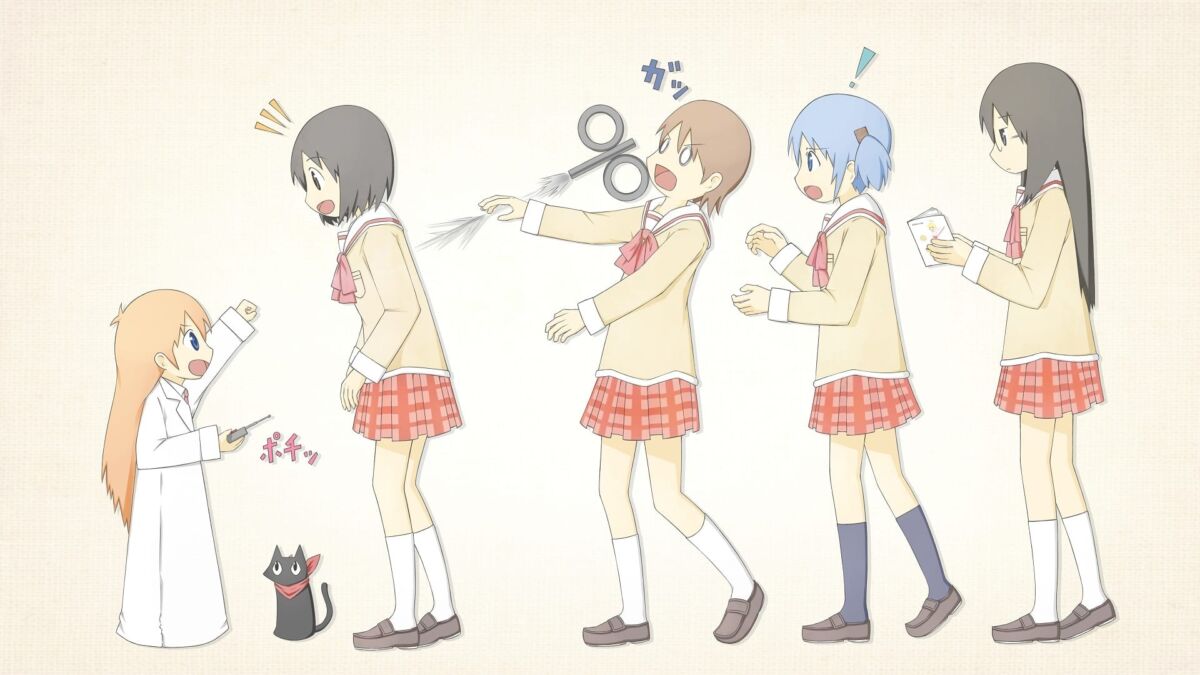 The ordinary is indeed front and center in Nichijou: My Ordinary Life, an ensemble series focusing on a group of high school girls that originally began as a manga in 2006. This 2011 series ran for 26-episodes and never steered away from focusing on these characters in a small, fairly Japanese town in a way that also avoids any serious or larger narrative. My Ordinary Life is basically just a collection of moments, and some of those moments can reach utterly surreal heights that must be seen to be believed.
Nichijou: My Ordinary Life subverts the opportunity to peer into the daily activities of charming, likable characters like Yūko, Mio, Mai, and Nano (an android schoolgirl built by one of the other characters). The heart and sincere love for these characters not only informs their impressive depth of personality, but also allows us to become deeply invested in the ever-bizarre moments that depict their solo and shared lives.
5. Ouran High School Host Club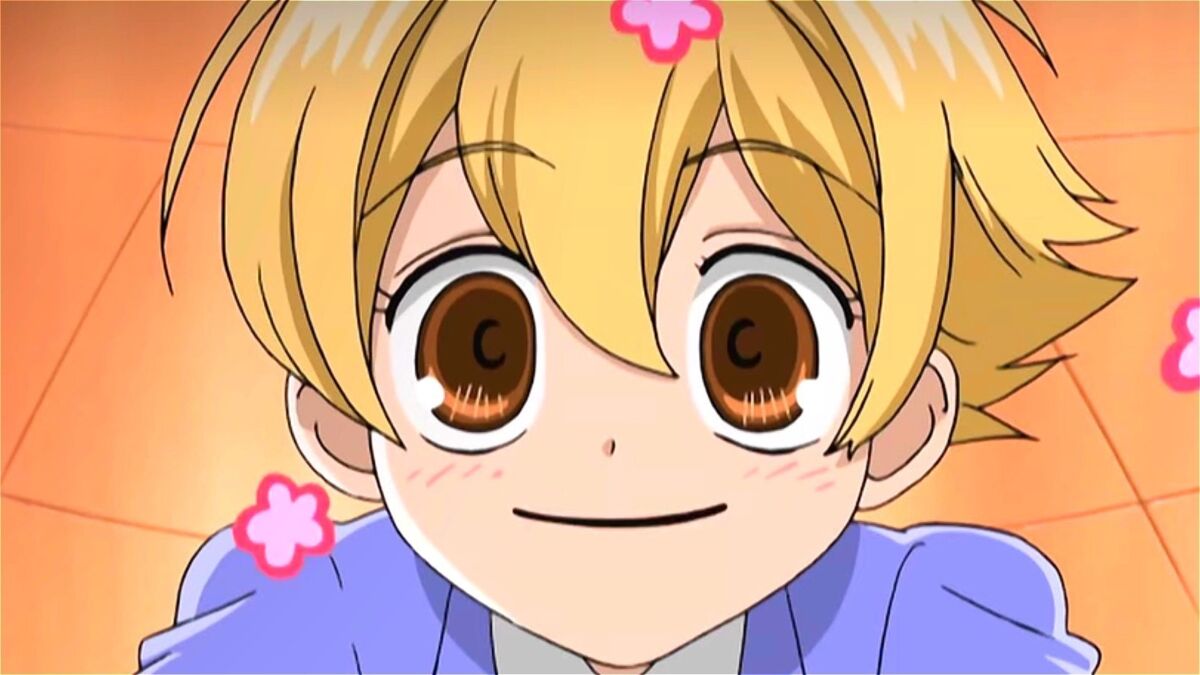 The parody element of Ouran High School Host Club, particularly with stories involving glamorous-looking young men and women caught up in ordinary high school drama, is apparent from the very beginning. However, like many of the best anime comedy movies and shows that focus on gently roasting popular genres and concepts, Ouran High School Host Club is more than just a series of jokes for a very specific fanbase.
In other words, you don't have to be a fan of harem comedies, humor with a slice of drama for good measure, or romantic comedy-style silliness to appreciate Ouran High School Host Club. The show cements itself with a grounded premise of a young man named Haruhi becoming a member of the Ouran Host Club after a minor accident.
Once it has your trust in these hilarious, warm characters, things only get more entertaining, with Ouran High School Host Club not being afraid to push itself into more serious fare at times.
4. Great Teacher Onizuka
Great Teacher Onizuka can be very rough around the edges at times. Eikichi Onizuka himself is a brash ex-motorcycle gang member whose horniness is unsurpassed by virtually any other character from across comedy anime that we could discuss. He'll say anything to make a point, and he also has a penchant for getting involved in the lives of his students. This has the obvious comedic results you're hoping for, but we wouldn't be here if GTO was just the sum of its parts. There's a lot to be enjoyed beyond the show's occasional desire to be as audacious as possible.
The secret of GTO and its enduring likability after 25+ years of serialized manga, animation, several live action releases (including a 1999 film that's very much worth your time) isn't that it tries to redeem Eikichi. He just happens to learn a lot while simultaneously presenting himself as a cool guy with all the answers.
Great Teacher Onizuka is surprisingly wholesome, and that keeps the comedy from ever getting stale.
3. Gintama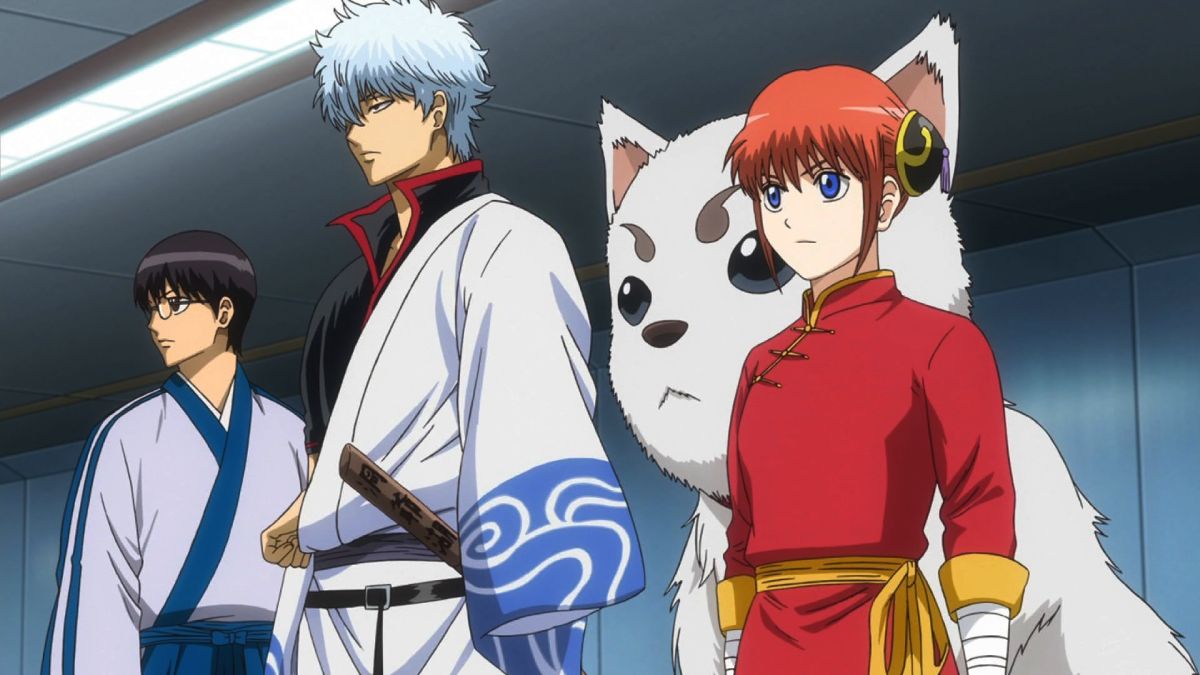 An alternate universe feudal Japan that's been conquered by some particularly feisty aliens is a great premise under any circumstances, but Gintama knocks you for a loop over and over again with its willingness to be the most unhinged action comedy anime you've ever seen.
You can't help but become pulled in by Gintama's basic premise of a world in which swords and samurai are effectively outlawed, with an eccentric warrior named Gintoki Sakata becoming the focal point as he and his friends take on any job to survive. The show doesn't forget strong characters or the necessary action, but those are only pieces of a larger story that includes meta humor, tons of references and parodies, and some of the most absurd-but-satisfying plot developments you'll ever find.
No wonder Gintama includes hundreds of episodes, movies, manga, light novels, games, and more. You'll want to start with the best, which would be the 2011-2013 series.
2. Tokyo Godfathers
Tokyo Godfathers is a little different from anything else we've discussed so far when it comes to our best comedy anime countdown.
This Satoshi Kon-helmed animated feature from 2003 isn't afraid to emphasize bitter tragedy, or somber realities that can leave the viewer feeling flashes of utter powerlessness to help these wonderful, beautiful characters. Equally, Tokyo Godfathers knows that there's humor to be found in three very different homeless people banding together to take care of a baby found in the garbage on Christmas Eve. This humor never overextends itself, and it never loses its sweetness or moments of requiring a sharper edge to make a point. It's a tragicomedy that doesn't forget one of those things to support the other.
The strength of Tokyo Godfathers, loosely inspired by a 1948 John Wayne/John Ford western (yes, really) is in its characters. They are nuanced, flawed, hilarious, and sometimes deeply depressing. The momentum of watching them veer through vicious, unsentimental obstacles carries us well past the end credits.
1. Urusei Yatsura
Back again with Rumiko Takahashi, one of the most celebrated creators in modern anime history. Her long list of successful works really hit its stride with the initial release of Urusei Yatsura ("Those Obnoxious Aliens") as a manga in 1978. Based on a short story Takahashi wrote at just 21 years of age, the series was adapted into an animated TV series in 1981.
That series would run for an astonishing 194 episodes, with OVAs and several theatrical films to follow. A 2022 reboot series is currently reintroducing iconic characters like Lum and Ataru, two young people from different planets whose fates seemed eternally entwined, to a whole new generation.
The 1981-1986 animated series might look a little dated in the animation department, but chances are you're going to love these characters and their madhouse existence too much to really care. Everything ultimately looks fascinating and plays brilliantly with sight gags, loony dialog exchanges, and stories that encompass parody, romantic comedies, science fiction, horror, and some of the most surreal plots you've ever seen. It still doesn't get better than Urusei Yatsura for joyful, unforgettable anime comedy.
READ NEXT: 25 Best Horror Anime of All Time
Some of the coverage you find on Cultured Vultures contains affiliate links, which provide us with small commissions based on purchases made from visiting our site. We cover gaming news, movie reviews, wrestling and much more.