► We drive disguised prototype of new Renault EV
► Potential for sub-£25k price tag
► But will cheap = cheerful?
The Renault 5 name was last attached to a car in 1996, but Renault's reviving it for a new, all-electric small car. As a B-segment supermini, it's the successor to the popular (but rather long in the tooth) Zoe, as well as a natural rival to the Peugeot e-208.
Yet its promised retro styling means it's likely to have curb appeal to rival the Honda e or MINI Electric. 
Renault's EV fortunes have taken a turn for the better with the excellent Megane E-Tech – can it repeat the success with something smaller? We've spent time with two prototypes of the new R5, driving them around Renault's own test track, to get an early taste of how this new EV is shaping up.
What's under the skin of the new Renault 5?
The skin in question is of course, not what the R5 will look like when it hits production. The two test mules have their zappy bits hidden under butchered Clio bodyshells, though the presence of a charging port on the nose and blistered wheelarches indicate that what's underneath isn't quite what it seems.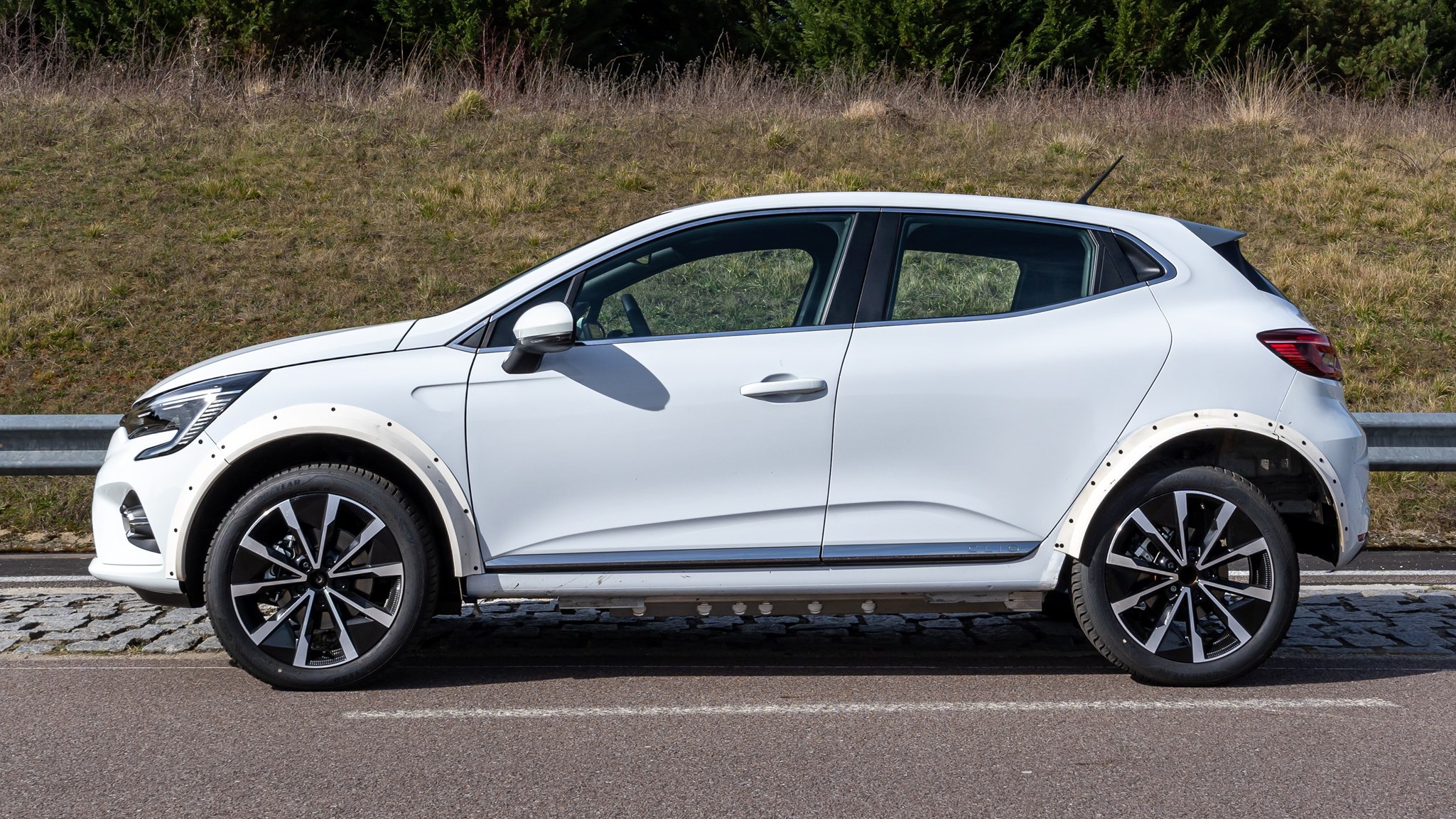 The R5 will ride on Renault's CMF-B EV platform. Unusually, our presentation included the boast that this platform shares 70% of its componentry with the regular CMF-B platform that underpins combustion and hybrid-engined Renaults – unusual in that we're more used to manufacturers telling us how bespoke their new platforms are.
But using the lion's share of an existing platform means Renault can keep costs down, and claims that it's around 30% cheaper than the more bespoke underpinnings that sit underneath the Zoe.
The battery packs – four of them, arranged in the typical 'skateboard' style across the floor – weigh 15kg less than those in the Zoe. Expect 40kWh and 52kWh capacities, with the latter good for around 250 miles of range. 
A 100kW electric motor (136bhp) is pretty well on par with rivals in terms of power, and with copper coils it doesn't use any rare earth metals – better for environmental impact. All the other electric drivetrain componentry is confined to a box you could fit into Ryanair hand luggage.
What about a hot one, a sort of reborn Renault 5 GT? Well, we asked. "It's technically possible, but I think we have to leave that to our friends at Alpine," the platform product manager told us. Watch this space.
So how finished are these prototypes?
We drove two. The first was markedly more basic – sitting at the stage before any tuning of chassis, powertrain or handling had gone on outside of a computer. The second had undergone a couple of stages of tuning, and also had the shorter wheelbase of the production car – marked out by the wheel sitting further forward in its ill-fitting disguise's wheelarch.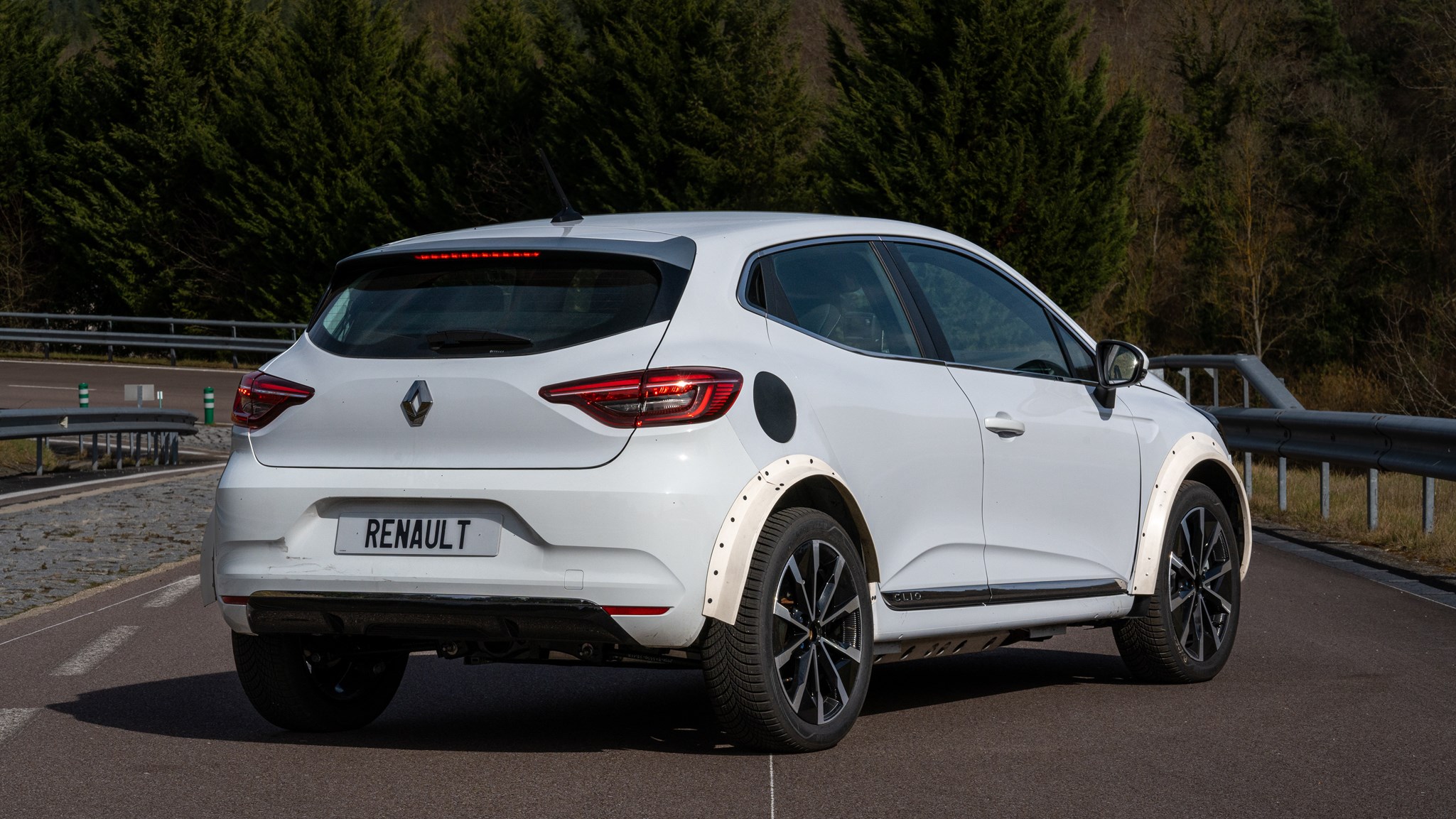 They're both way, way pre-production, but gave a good taste of what to expect from the upcoming R5.
What is the Renault 5 like to drive?
We started in the more basic of the two – and, to be honest, we've driven worse cars that call themselves full production. It bodes well that even without any dynamic tuning this would still make a perfectly passable EV.
Of course, the closer to production things get, the more interesting they become. All the hallmarks are here of a fine-driving EV supermini. All R5s will come with a compact multi-link rear axle, and the steering ratios and handling characteristics have been tuned to give a more dynamic drive than the Zoe that came before it.
The steering's a real highlight. It's very direct, weights up nicely, and is quick enough that you don't need to cross your arms even on a hairpin bend – something you couldn't say of the Zoe with its slower rack. Much more than the Zoe, this is designed to be fun to drive – something that'll no doubt be helped by its wide track and short wheelbase.
Even at an early prototype stage the Renault 5 is a fun steer – not intimidating, but agile and perky in keeping with its positioning as the Zoe's fun cousin.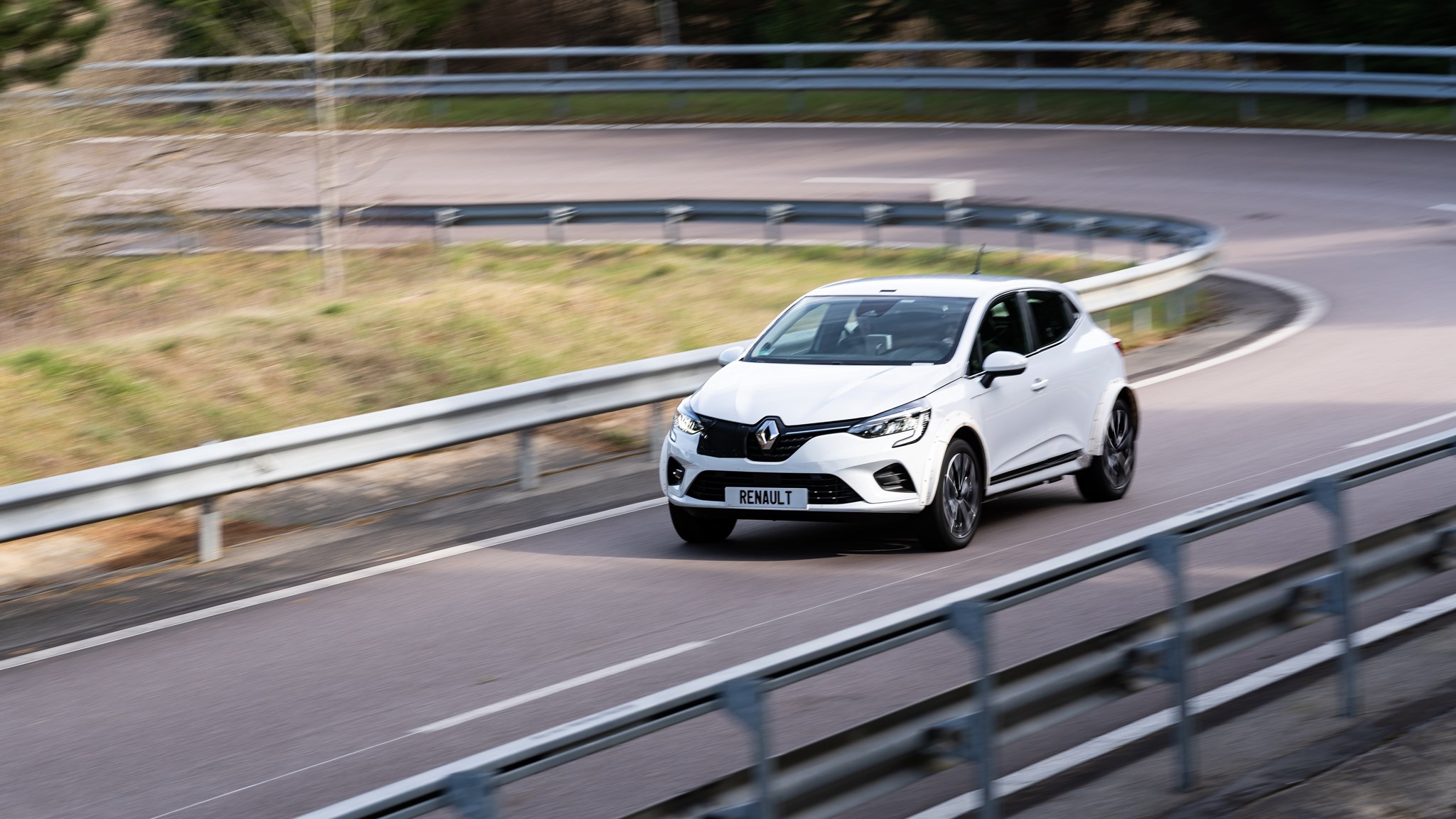 The braking feels impressively tied together, which isn't always a given on electric cars that have to balance regenerative and friction braking. It's a brake-by-wire system and though on the pre-tuning prototype it felt grabby and binary, the more finished car felt miles better. Feedback from the pedal is good, and you feel as though you're squeezing the brakes rather than pressing down on the pedal. 
Of course there will be a degree of adjustable regen when the car comes to market, but unlike some other systems you will still need to use the pedal to take you down to a full stop.
What else should we expect from the finished car?
Nothing ever makes it from concept to production totally unscathed. The Renault 5 concept we've seen so far looks fantastic, but once it hits the road Renault concedes it'll be a little taller, a little narrower, and wearing slightly smaller wheels. Much the same transformation Honda went through from the Urban EV concept to the production Honda e.
Expect many of the retro styling cues to make it through this process, though. And look forward to a couple of others – we've already noted that the driver's seat on the prototype model is upholstered in brown and has side bolsters that put us in mind of the fantastic wingback chairs you'd find in a classic 5 Baccara.
Though the prototypes wear their charging port on their nose, like the production Zoe, this'll be moved to the front wing for production.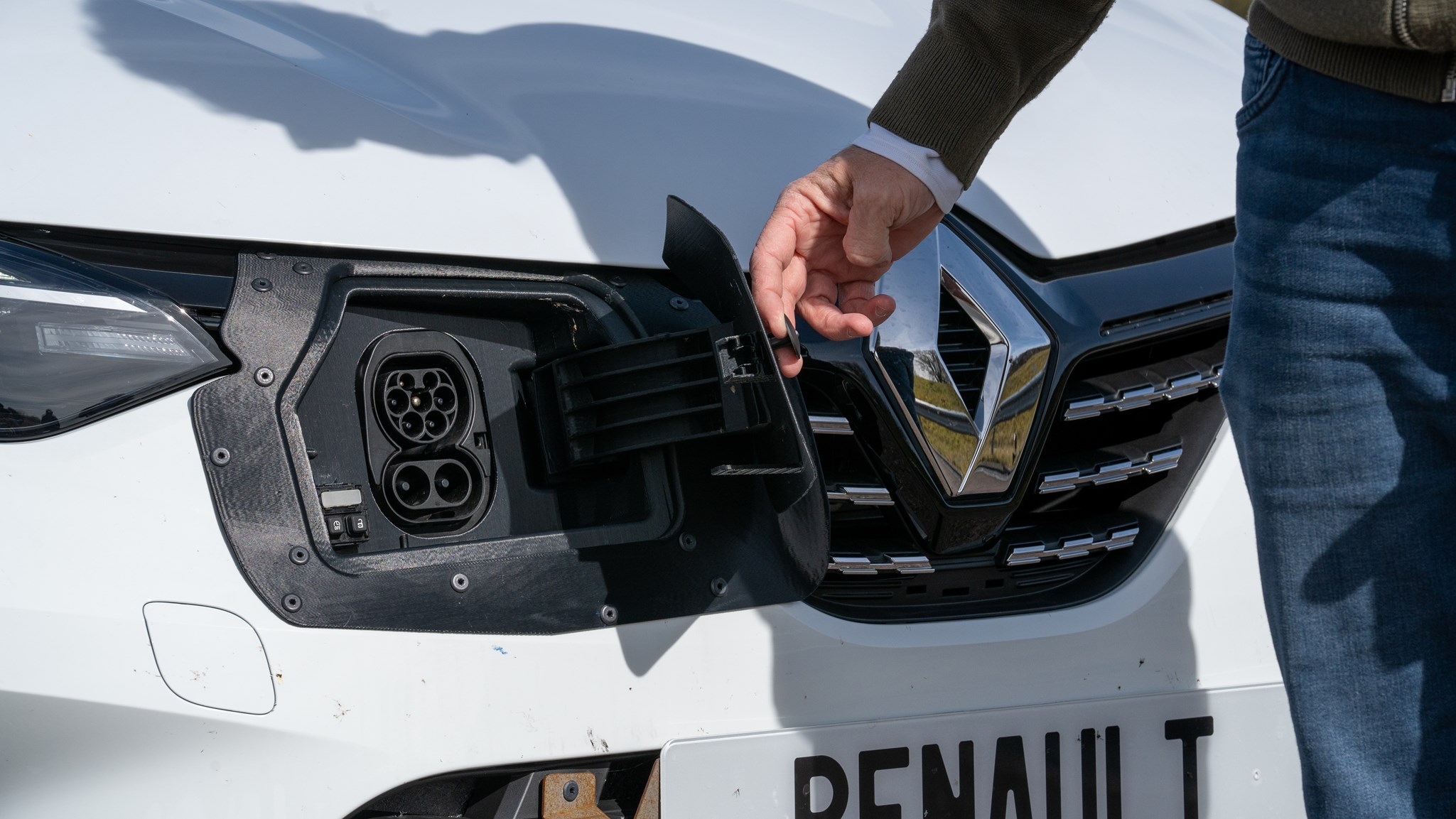 As for price? Renault says it wants the 5 to be 'the most competitive EV in terms of cost versus performance'. Strong words, and ones we hope will accompany a sub-£25,000 price tag.
Verdict
Too early to know for sure but all the signs are here for the new Renault 5 EV to be a serious rival to the few B-segment EVs available. If it delivers on its claimed range and is accompanied by a low price tag, then the strength of dynamic ability we've seen in this test drive should make it more than a contender for the Peugeot e-208.