[ad_1]

Lenovo laptops are often among the best offerings in a given segment, so any new notebook from the company has to impress if it's going to maintain that lofty position. The Lenovo Slim 7i Pro X crams a powerful Intel H-series CPU and a discrete Nvidia GPU inside a slim, 14-inch compact machine, but is it too hot to handle? At least on paper there's lots to like, so let's find out.
At 3.3 pounds, this Lenovo aims to be a portable machine that can still carry a full-power Intel processor and a proper Nvidia graphics core. There's a high-resolution display, too. The Intel model starts at $1,595, and the rig we've reviewed costs $1,760 thanks to memory and storage upgrades. That's a decent price that compares well against the likes of the Apple MacBook Pro 14, which starts at $1,999.
Features and Design
There are lots of pleasing design touches around the Slim 7i's aluminum enclosure. The edges gently curve, the speaker grilles are sharply milled, and Lenovo's « Ultimate Grey » coloring looks subtle and smart. The screen folds flat, there's a webcam privacy switch, and the display has a handy lip that makes opening the laptop smooth and effortless.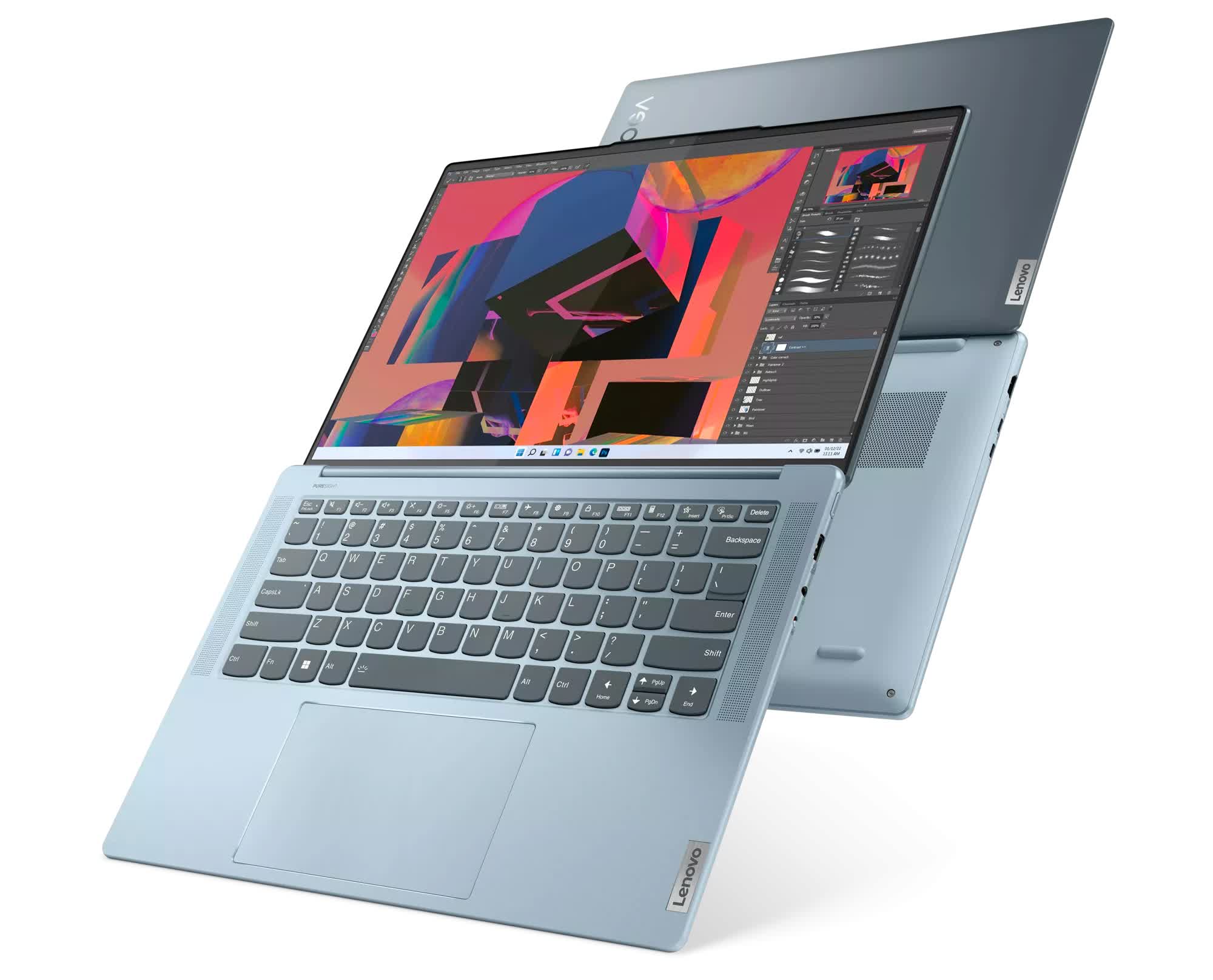 There's only a little bit of movement when you put pressure on the keyboard deck and the back of the screen, but it's not concerning. The build quality isn't far short of what we'd expect from a MacBook, and the Lenovo is robust enough to be tossed in a bag and taken on a commute.
Lenovo's laptop competes well on the scales, too. At 3.35 pounds and with a 0.87-pound power brick it's a little lighter than the latest MacBook Pro 14, and its body is a svelte 15.9mm thick.
If you're concerned about weight, then lighter laptops are easy to find. Notebooks like the Dell XPS 13 Plus and LG Gram 14 arrive at 2.7 and 2.2 pounds respectively. But while that's great for cutting weight, you lose the full-power CPU and discrete GPU.
You'll need to remove five TX5 screws to get inside, and there's not much to shout about internally – the SSD and wireless card are accessible, but there are no vacant slots and the memory is soldered.
The Display
Lenovo's 14.5″ panel arrives at 3072 x 1920, so there's plenty of space for precise work and multiple windows. The 16:10 aspect ratio means you get a bit of extra height – handy for easier navigation of browser windows and Office apps.
The panel has a 120Hz refresh rate, albeit without adaptive sync. Still, that's twice the rate of most everyday laptop screens, and it's high enough to make mainstream games and casual esports titles look smooth – and running titles at 120 fps is about the limit of the modest GPU anyway.
Display performance is reasonable, too. The 403cd/m2 maximum brightness is good enough for indoor use and most outdoor situations. The black point of 0.32cd/m2 is decent, and means you've got enough depth for everyday workloads and mainstream creative tools – and games.
The resulting contrast ratio of 1,259:1 is solid and ensures good vibrancy and nuance. The Gamma average of 2.17 barely differs from the 2.2 ideal figure, too, so you'll get smooth, consistent gradation between black, grey and white tones. When it comes to colors, though, the Lenovo is a little limited.
The 0.71 Delta E and 6,540K color temperature are both fantastic, so every shade produced on this display will be accurate. However, the Lenovo only produced 93.6% of the sRGB color gamut at 94.3% volume, and its figures hovered around 65% in the DCI-P3 and Adobe RGB spaces.
Those sRGB figures are good enough for browsing, mainstream photo-editing, gaming and media, but the DCI-P3 and Adobe results fall short of the levels required for HDR viewing or high-end design.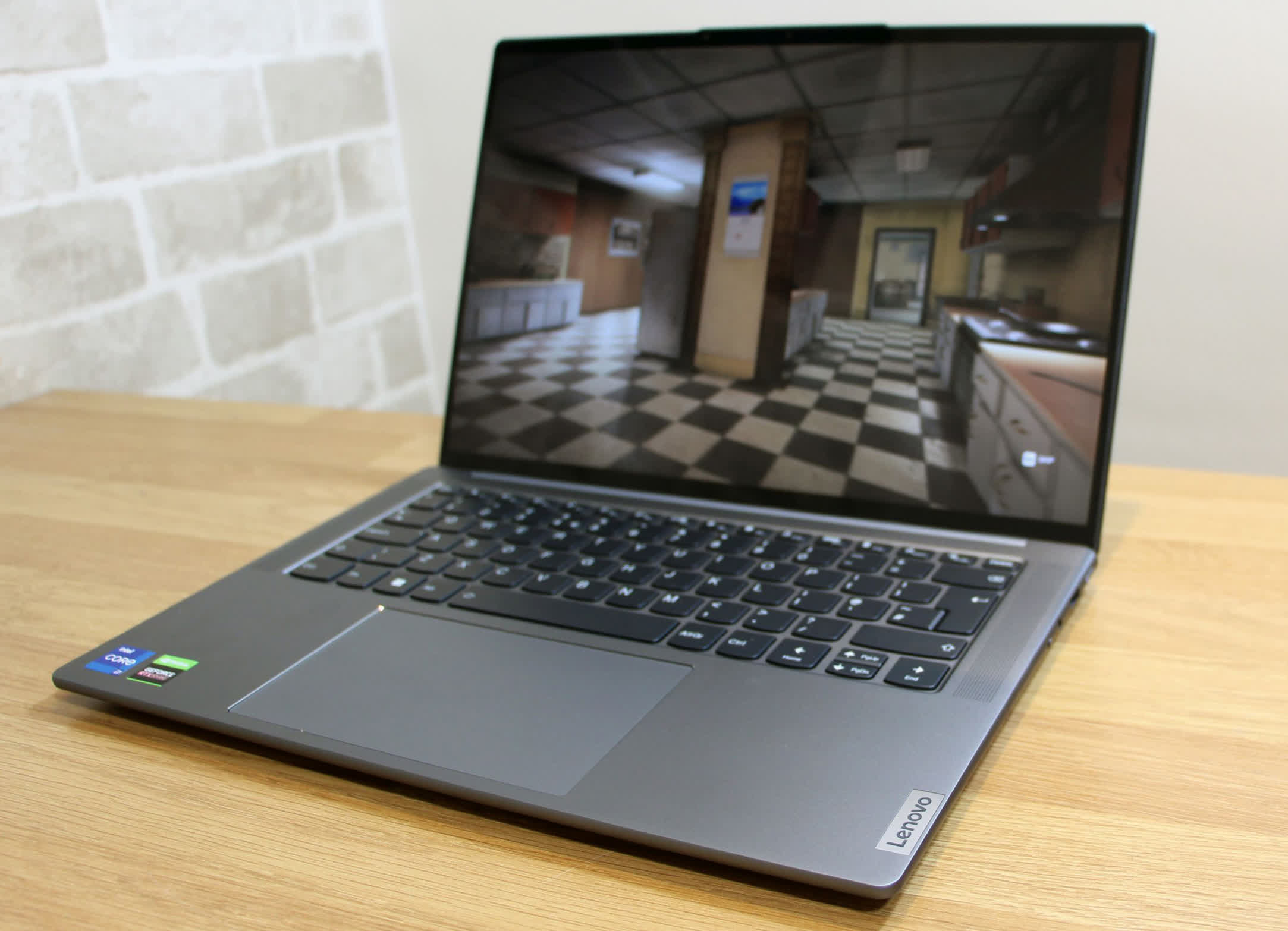 This is a good IPS display, but we'd argue that a good IPS panel isn't necessarily good enough these days. Head over to the MacBook and you'll benefit from a brighter Liquid Retina XDR panel that uses Mini LED tech to deliver deeper contrast and DCI-P3 gamut support. Dell's notebooks have high-resolution OLED options and you can find OLED displays on other small notebooks with prices that match the Lenovo.
Play games or view media on this laptop and you'll also benefit from decent speakers that produce a crisp high-end with detailed mid-range sounds, but bass is weak and volume could be better – this rig will struggle to properly fill a room. That's no wonder when they only offer 4W of audio power.
Input and Connectivity
Alongside the power button and webcam privacy switch the Lenovo's right-hand edge offers a full-size USB 3.2 Gen 1 port and a headphone jack. You won't find a full-size USB port on many rivals, so that's a welcome addition.
On the left-hand side the Lenovo deploys two Thunderbolt 4 ports and an HDMI 2.0 output – with the latter often missing from rivals. Above the display is a 1080p webcam with Windows Hello support. That's solid, but there are some notable omissions. There's no card reader, which will irritate creatives, and you don't get a fingerprint reader.
Internally, there's dual-band 802.11ax Wi-Fi 6E and Bluetooth 5.1, but there's no wired Ethernet and you'll find newer Bluetooth versions supported by the MacBook and many other notebooks.
Also consider those Thunderbolt ports – because if you buy the cheaper AMD version of this laptop, they're replaced by USB 3.2 Gen 2 Type-C connections. Those retain DisplayPort 1.4 support and 5V/3A power delivery, but they transfer data at 10Gbps – a long way short of Thunderbolt's 40Gbps peak.

Each button on the chiclet keyboard is subtly concave, which improves comfort and grip, and the buttons feel superb – there's a pleasing bounce back to the keys once you push beyond their actuation point, and they're fast and consistent.
They've only got 1mm of travel and there's no numpad, but that's par for the course in this kind of machine, and it won't affect your day-to-day use.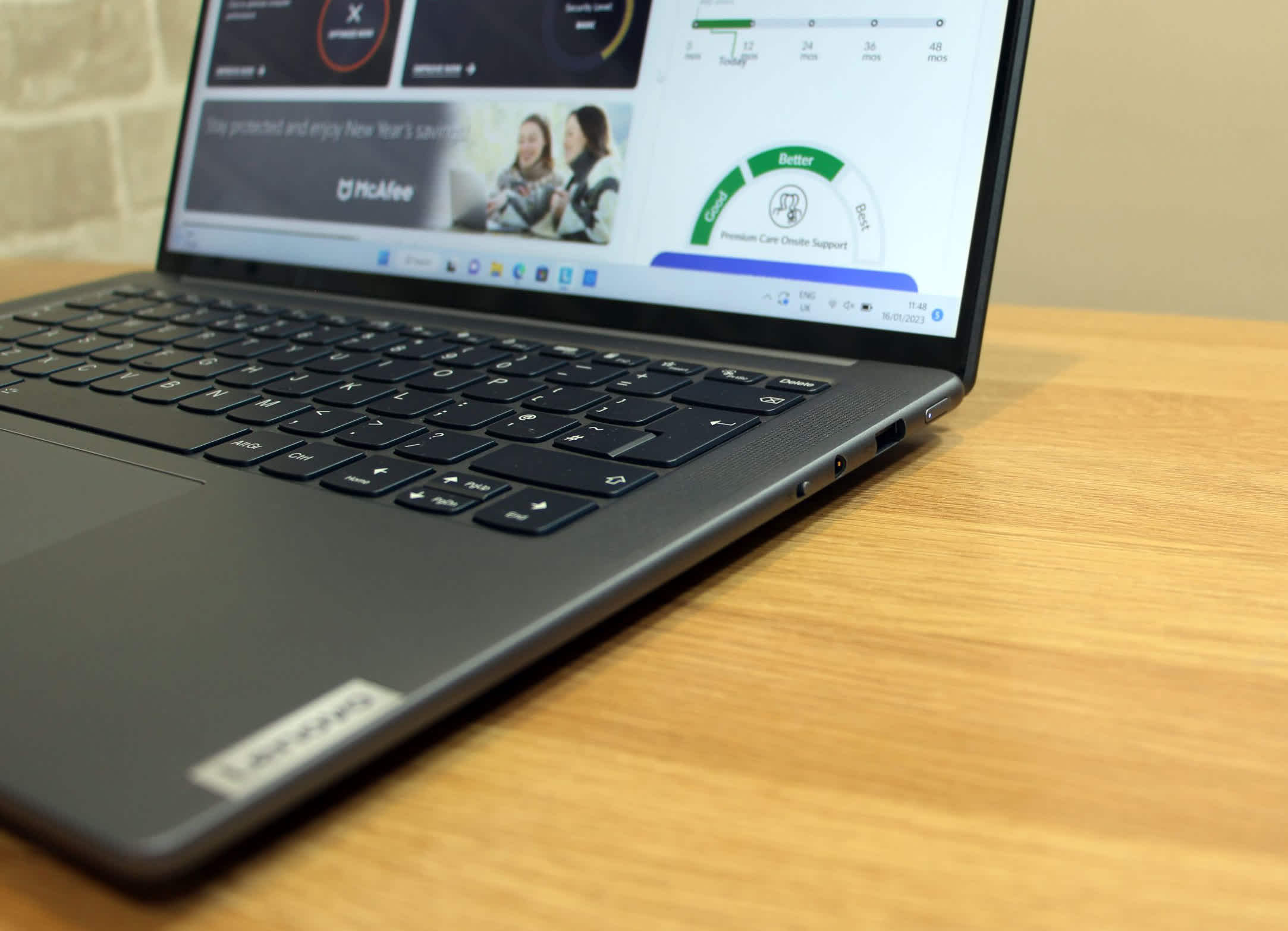 The Slim 7i Pro X keyboard is quiet, and its two-stage backlight offers decent brightness and automatic adjustment thanks to an ambient light sensor.
There's little to choose between this typing unit and the similar keyboard on the MacBook Pro, which only beats the Lenovo thanks to its full-size function keys.
The trackpad is a mixed bag. The 140 x 80mm unit is large and its surface is smooth, but the buttons are a bit soft. It's not a huge issue, but you'll want to use a USB mouse for gaming and precise work.
Performance
Intel's Core i7-12700H is one of the most popular processors around right now, and with good reason – it's got six Hyper-Threaded P-cores with a peak speed of 4.7GHz alongside eight E-cores. For a deep dive into this processor, head here for our full review.
The Slim 7i Pro X's size does mean compromise regarding power levels, though. In this rig the chip's peak continuous power level sits at about 65W. That's short of the CPU's maximum 115W Turbo peak and the 75W figure used by many larger laptops – and that figure drops in different performance modes. Unless specified, all of our benchmarks use the Lenovo's default Adaptive Performance option.
It's no surprise that there's a modest GPU inside this laptop, too. The GeForce RTX 3050 outpaces Intel's integrated cores thanks to its 2,048 stream processors and 4GB of dedicated memory, but its peak TDP of 50W is 30 Watts short of the GPU's factory pace.
Our upgraded model includes 32GB of dual-channel DDR5 memory clocked to 5200MHz, with half that amount included in the standard spec. The 1TB Micron SSD offers read and write speeds of 5,930 MB/s and 4,033 MB/sec – respectable results that won't break records – and you get a 512 GB SSD as standard.
The i7-12700H is no slouch, despite its lack of full-power ability. In Cinebench R23's single- and multi-core tests it returned results of 1,689 and 10,532. Those figures are some way short of the full-power chip, but the latter result was nearly two thousand points ahead of the Apple M2 CPU.
We tested the Apple M2 chip in its 8-core configuration inside a MacBook Pro 13, which means you get 6 performance and 2 efficiency cores. In new MacBook Pro 14 models, it's a 10-core chip with 8 performance cores. However, testing from around the web suggests there isn't a huge difference between those versions of the chip. So while the MacBook Pro 14 with its 10-core CPU might close the gap with Intel, it won't overhaul the i7-12700H.
Further benchmarks only bolster Intel's lead. In the MATLAB test the i7-12700H averaged 1.21s, which was half a second quicker than the Apple chip. Its Excel score of 8.46s was a third faster, too.
The Lenovo's modest power levels did see it falter in 7-Zip – its compression and decompression results of 48.64 MB/s and 555.9 MB/s are middling and fall behind every rival.
There's a clear gulf between the i7-12700H and the M2, and there's also a significant gap between the Slim 7i Pro X and the low-power Intel CPUs you'll find inside other slim 14″ notebooks like the Dell XPS 13 Plus. The i7-1260P could only match the Apple M2 in Cinebench, for instance, and it lagged behind the Slim 7i Pro's i7-12700H in Excel and MATLAB.
Don't expect the more affordable AMD-based Lenovo to compete with Intel either. The fastest AMD version of this laptop comes with a Ryzen 7 6800HS – a low-power version of the Ryzen 7 6800H we've already tested. Given that several of the Slim 7i Pro's Intel results already beat or match the full-power AMD chip – across both Adaptive and Extreme modes – the Ryzen 7 6800HS will certainly be a tad slower.
Ultimately, the only way you'll get a significant CPU boost is by opting for a more powerful version of the i7-12700H or a beefy Core i9 processor – and that means a larger notebook. If you do make that choice, you'll see a big performance boost. In the Cinebench R23 multi-core test, for instance, the 75W i7-12700H scored 16,691, and Core i9 parts are even faster. The i7 chip in our review was 22% faster than the Slim 7i Pro's version in MATLAB and 29% faster in Excel, and that's with varying power levels.
Switch over to the Slim 7i Pro's Extreme Performance mode and you get a boost that lifts it further beyond the Apple M2, but it still can't match Intel's unfettered silicon. In the Extreme mode, for instance, the Lenovo's revised Cinebench scores of 1,663 and 13,055 mean you only get a significant gain in the multi-core test when compared to the Adaptive mode.
The Slim 7i Pro's Extreme Excel result of 7.1s represents a 17% improvement over Adaptive Performance, and its revised MATLAB result of 1.13s only saw a 6% gain. In PCMark 10's Essentials test the Slim 7i Pro's Extreme result of 8,884 was actually a little slower than the Adaptive score, and its Digital Content result of 8,860 was only 5% improved over the Adaptive mode.
Extreme Performance mode doesn't always deliver a boost – mostly multi-threaded workloads really feel the benefit. Still, in real-world use, this all bodes well: in Adaptive Performance mode this notebook will handle loads of browser tabs and all of your Office apps, and it tackles multi-tasking, mainstream photo-editing and design workloads. Switch to Extreme Performance and you can add more demanding creative and data-handling tools to the mix.
At the other end of the scale, you'll need a larger laptop or a Core i9 processor for 4K video editing and encoding, pro-level CAD tools and other truly demanding software. That's true on the graphics side of things, too – the RTX 3050 lends a little extra ability in content creation tools and it's solid in games, but it's not transformative.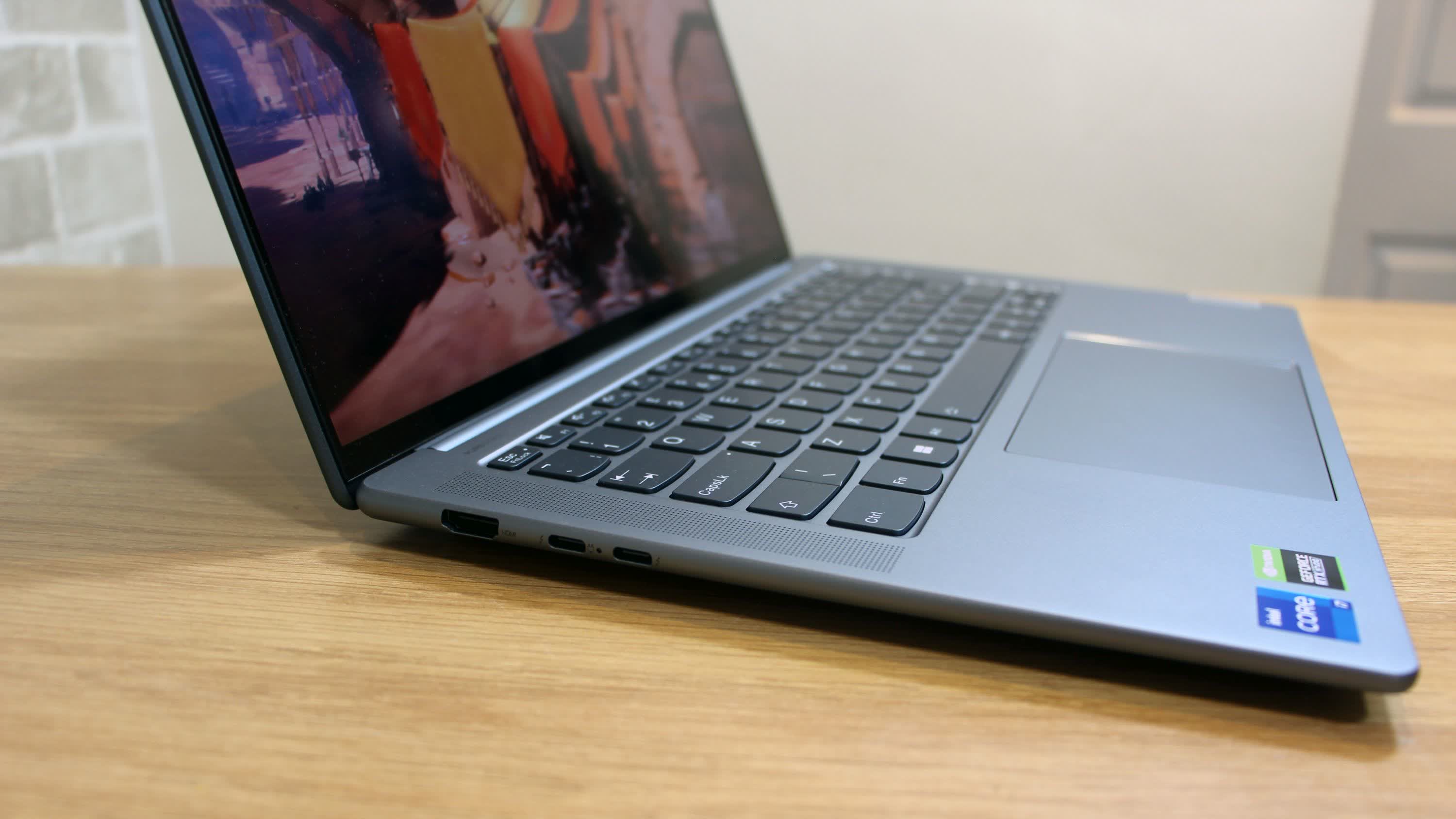 In Rainbow Six Siege at 1080p and with Medium settings the Slim 7i Pro averaged 125 fps, which is enough speed to make full use of the 120Hz screen – and it still hit 102 fps with Ultra graphics settings deployed. You've got enough speed here for everyday esports games. That said, don't buy this machine if you want a true competitive experience – that refresh rate isn't good enough, and the response time sits at beyond 10ms. Still, it's fine for a bit of Fortnite or Overwatch after work.
You'll have to temper your expectations for single-player games, too. In Far Cry New Dawn at 1080p and High settings the Slim 7i Pro's average of 39.2 fps is playable but not smooth. Full HD averages of 38.4 fps and 35.1 fps in Assassin's Creed Valhalla and Borderlands 3 confirm that assessment.
You can do one thing to improve performance: switch to Extreme Performance mode. With that option deployed the rig's Far Cry result improved to 68.1 fps, its Valhalla pace rose to 43.2 fps, and it gained 14 frames in Borderlands. In Horizon Zero Dawn, its Adaptive Performance framerate of 32.2 fps revised to 52.6 fps.
That's a huge jump, and it's no surprise when you consider the power levels: in Adaptive Performance mode, the GPU uses about 20 W of power and only hits its 50 W TDP in Extreme mode.
While Extreme Performance mode helps, the RTX 3050 will never be a gaming powerhouse. You'll only get to a smooth 60 fps or beyond if you use Extreme Performance mode or cut back on graphics settings in trickier titles, and that's at 1080p rather than the rig's 3072 x 1920 native resolution.
Thermals and Battery Life
You would assume that the Slim 7i Pro X was a hot and loud laptop thanks to its high-end parts and compact casing, but that's not the case – Lenovo has done a decent job with thermal management here. In Adaptive Performance mode, the fan noise is modest. Even if you're pelting through games or tough processing tasks, the sound levels are small enough that you just won't notice them if you're in an office or have the speakers running.
Temperature levels are reasonable, too. There's a bit of excess heat in the metal above the keyboard, but you won't touch that in everyday use. And while the underside panel gets a bit warm, it won't cause issues unless you're stressing the CPU with the laptop on your lap.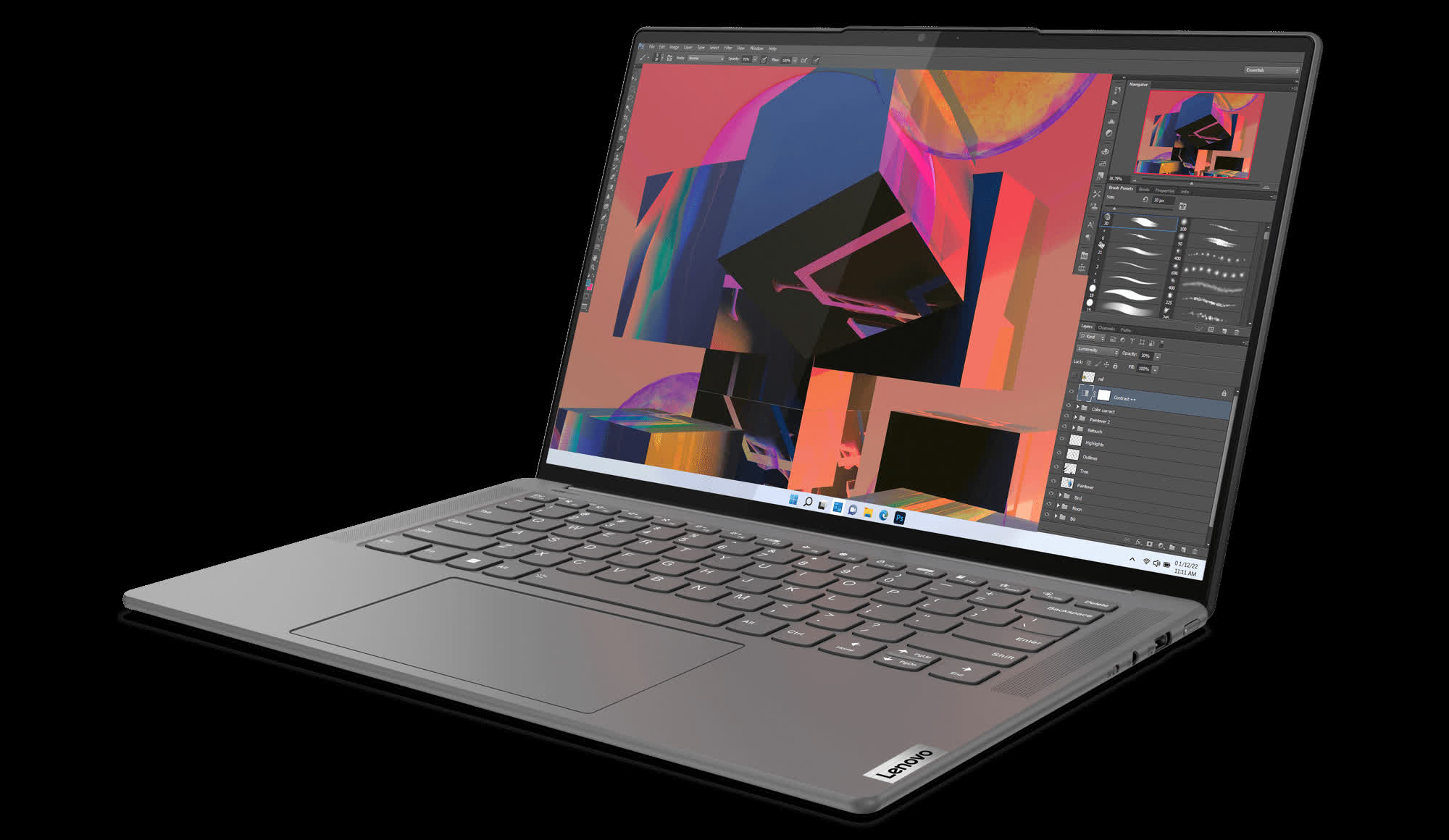 It's a similar story in Extreme Performance mode. There's no real difference to external temperatures. And while the fan noise is noticeably increased with the performance option deployed, the Slim 7i Pro X still isn't that loud – it's not going to cause any issues or interruptions. Indeed, sub-50db noise levels in every stress test are good, and in the vast majority of situations the Lenovo doesn't approach that figure.
The 70Wh battery isn't quite as accomplished, but that's no shock when the Slim 7i Pro deploys an H-series CPU and discrete graphics core.
In an everyday work benchmark with the display at half brightness, the Slim 7i Pro X lasted for 7 hours and 26 minutes, but that figure dropped by just over an hour with the screen at full brightness.
Its best results came in media playback tests. With brightness reduced and the Battery Saver mode deployed, the Slim 7i Pro X lasted just over 10 yours, and you'll get eight hours from this rig with the display at full brightness and media playing. Conversely, if you push the components in games, expect about two hours from the Slim 7i Pro X.
These results are no surprise given the Slim 7i Pro's specs, but you won't always get a full working day out of this notebook – you've got to be careful if you want this laptop to last from 9 to 5. If battery life is important to you, many rivals can last longer.
Wrap Up
Lenovo has done a decent job of balancing the Slim 7i Pro X's various attributes. Battery life could be better but its middling results are no shock considering the components. The Core i7-12700H and Nvidia RTX 3050 offer more performance than virtually any other laptop at this size, even if those internals don't operate at their peak performance levels.
This is one of the few small notebooks to outpace the MacBook Pro 14, and it means the Slim 7i Pro X has true content creation and gaming potential if you temper expectations accordingly.
Elsewhere, the Slim 7i Pro X includes a comfortable Lenovo keyboard, good build quality, and solid speakers. The display is a decent IPS panel, although a lack of gamut ability undermines its high resolution and refresh rate.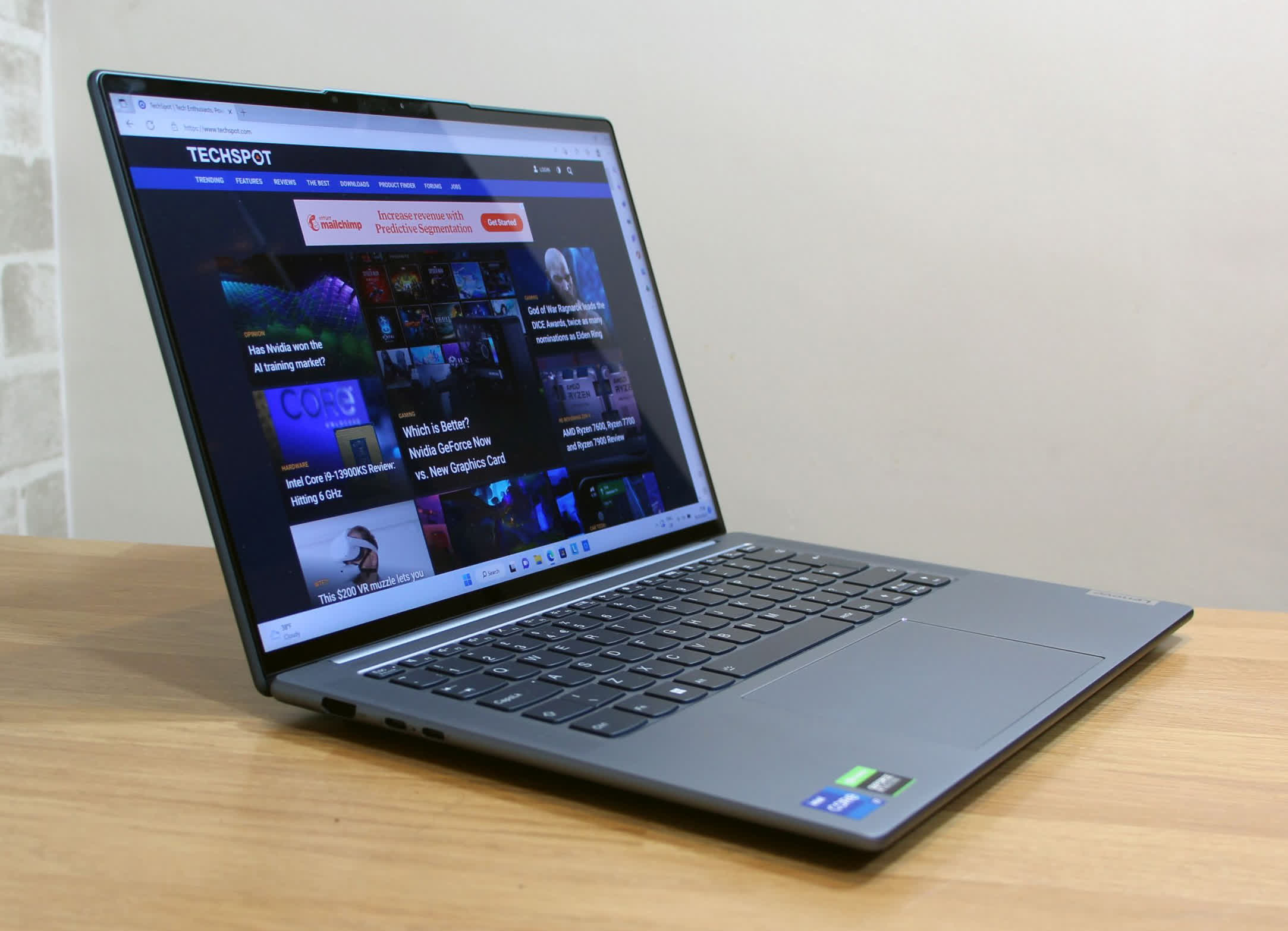 You'll certainly find more screen quality on other laptops. Connectivity could be improved, especially for creatives. If the Slim 7i Pro X doesn't tick all of your boxes, you can get better battery life from rivals and smaller notebooks and more computing power from larger machines.
The Lenovo offers good value, too. Its $1,595 initial price rises to just $1,760 if you add our 32GB DDR5 memory and 1TB SSD upgrades. The MacBook Pro 14 starts at $1,999, and that price soars to $2,599 if you deploy 32GB of memory and a 1TB SSD. Replicate the Lenovo's Slim 7i Pro X's spec sheet on a Dell XPS 13 Plus and it'll cost you $1,999, or $2,199 if you want an OLED screen.
The Slim 7i Pro X may not have the screen quality of those laptops or the battery life of the MacBook, but it does deliver huge power inside a compact, robust and manageable package – and that makes it one of the best small work laptops on the market.
Shopping Shortcuts
[ad_2]